Amethyst is a gem found within the Underground and Cavern layers of a world. They are obtained by breaking special blocks that have noticeable purple gemstones embedded in it. They can also be extracted from Silt, Slush, or Desert Fossil by putting them in an Extractinator. Rarely, Amethyst can be found in bulk in its own special gemstone cave, or in one that contains all of the other gems as well (besides Amber). Out of all available gems, Amethyst is the least valuable gem.
Like all other gems, Amethyst can be placed on blocks. As of 1.4.0.1, they can be crafted back into their Stony block forms at a Heavy Work Bench in a graveyard and can be obtained by cutting down an amethyst Gem Tree, dropping 0-5 of its respective gems.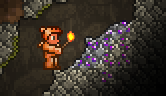 Crafting
[
]
Used in
[
]
Result
Ingredients
Crafting station
Amethyst Gemcorn
By Hand
Purple Torch

(10)

( )
Purple Torch

(3)

(  )
Amethyst Gem Lock
Heavy Work Bench
Amethyst Stone Block
Heavy Work Bench and Ecto Mist
Amethyst Hook
Iron Anvil
or
Lead Anvil
Amethyst Staff
Large Amethyst
Purple Phaseblade (  )
Purple Phaseblade ( )
Amethyst Robe
Loom
Amethyst Gemspark Block

(20)

Work Bench
Multicolored Stained Glass

(50)

Purple Stained Glass

(20)
History
[
]
 Desktop version
Desktop 1.2:

Stack limit increased from 99 to 999
Can now be placed.

 Console version
Console 1.02:

Stack limit increased from 99 to 999.
Can now be placed.

 Switch version

 Mobile version
3DS-Release: Introduced with changes up to Desktop 1.2.