watch 03:03
The Loop (Games)
The Anchor is an Flail/Harpoon-like weapon that is found in Wooden Crates which can be fished from any large body of water but are most commonly obtained from fishing from Oceans. It's a weapon with a long range but will return to the wielder on the first hit. It is affected by gravity.

Bugs
If one stands next to a closed door and throws the Anchor, it will pass through. This may also work with standard blocks.
If thrown at any torch with the right angle it will pass through the wall that the torch is connected to.
Update Info
Now comes back to the player after reaching a certain length.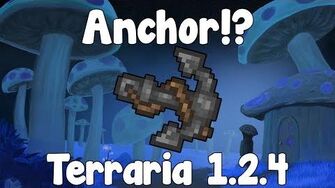 Community content is available under
CC-BY-SA
unless otherwise noted.