The
Angel Wings
are one of the variants of craftable wings, a flight-enabling item in the game. They are tied with
Demon Wings
 and
Sparkly Wings
 (Console Exclusive) for being the lowest tier Wings in the game. 
The maximum flight time if wearing the Rocket/Spectre Boots is 12 flaps of the wings from starting on the ground, or 8 flaps if attached to something with a Grappling Hook. Without the Rocket/Spectre Boots, you only do 5. Additionally, one can also glide down slowly after capping out on flaps, by continuing to hold the jump button. Angel Wings also negate fall damage, regardless if you are floating down or not, essentially replacing the Lucky Horseshoe and maybe Cloud in a Bottle. You could still use the Cloud in a Bottle for extra altitude, though it's recommended to use the Cloud in a Balloon instead due to it giving much greater altitude. While wearing wings and Spectre Boots/Rocket Boots, you ascend even faster. Both wings make flapping sounds when in use.
Notes
While wearing Hermes Boots or Spectre Boots and using the Angel Wings, your speed will increase in mid-air in the same way like walking on the ground.
Holding the down key (default S) will increase the speed at which you fall while gliding.
While using Cloud in a Bottle or Cloud in a Balloon and using the Angel Wings, pressing Jump in midair will allow you to ascend at tremendous speed.
It costs exactly 40 Gold to reforge a vanilla set of Wings and around 52 Gold to reforge Hasty or equivalent condition Angel Wings, much more than a usual reforge for accessories.
It appears that when the wings are spread e.g. When falling/gliding, or ascending, the wings will reflect light, similar to Gold Chests, or Mythril and Hallowed Armor.
When using Rocket Boots or Spectre Boots with Angel Wings (also works with Demon Wings), the flying effect of the Rocket Boots/Spectre Boots does not activate due to the Angel Wings being the primary source of flight.
Angel Wings do not go as high as the Bat Wings, Frozen Wings or Ghost Wings.  Frozen/Ghost seem to give the highest flight, with Bat Wings giving only slightly less.
Angel Wings can fly as high as a Hoverboard.
Jump height comparison table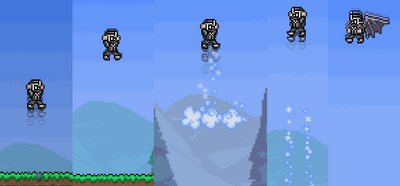 Bugs
When you are using them and you hit a roof with water on top, it counts as if you are underwater.
When you are flying against a series of one block openings, the player might go through that opening.
While using a Featherfall Potion you cannot use the wings to glide unless you press S to go down at a quicker speed. And even if you unfold them in this case they will not slow your fall speed.
Update Info
Community content is available under
CC-BY-SA
unless otherwise noted.