The
Ankh Shield
 is an equippable crafted accessory item that gives 4
defense
, grants immunity to knockback and negates damage from blocks that harm the player, such as
Hellstone
and
Meteorite
, as well as many
Debuffs
. The Ankh Shield is the one of the most elaborate accessories in the game, and with eleven different materials, it is one of the hardest accessories to get.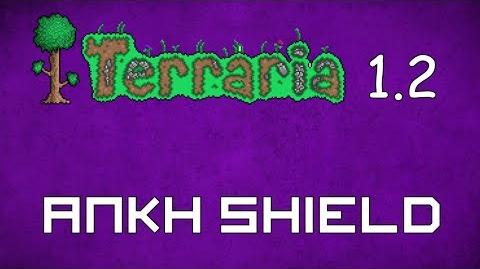 Debuffs prevented by this accessory include:
Debuffs NOT prevented by the Ankh Shield:
Notes
Although the Ankh Charm has no defense on its own, an Ankh Shield gains four defense from its Obsidian Shield ingredient. It is the only item craftable at the Tinkerer's Workshop to gain extra defense over its parts combined.
Although the Ankh Shield offers less defense than the Paladin's Shield, it grants immunity to a wide variety of Debuffs, as well as knockback, while the Paladin's Shield causes the holder to take some damage for their allies and grants knockback immunity. For survivability against high damage enemies (like Duke Fishron), the Paladin's Shield may be a better choice. But, if you want to keep yourself from taking many common debuffs (especially useful in the Underground Hallow), the Ankh Shield will be better. Alternatively, you can just skip the decisive part and equip both to gain both their bonuses.
Using Battle Potion and a Water Candle can help when trying to collect the items needed.
Trivia
Ankh is an ancient Egyptian symbol which means "eternal life" and was used in many protective charms.
Update Info
Immunity to Chilled debuff added.
Gallery
Community content is available under
CC-BY-SA
unless otherwise noted.