Background walls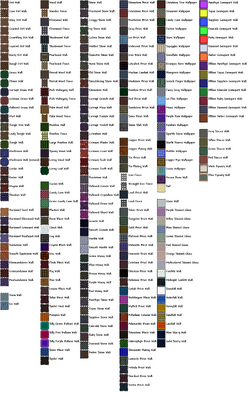 Background walls, also just known as walls, are tiles that create backgrounds on top of biome backgrounds. Walls are hidden behind everything else, such as blocks. Natural walls are generated at world creation, being abundant in certain biomes like the Underground Jungle, and are of the main components a Terraria world consists of alongside blocks and liquids. Walls can be removed with a hammer or explosives.
Many wall types exist as items that the player can place in their inventory and then re-place in any area which does not already have walls. Whether this is possible depends on the source of a given wall which puts walls in two categories:
Housing walls are useable walls in that they exist as obtainable items. Placed housing walls can be removed (in which they drop as items), picked up, and re-placed. They have three sources: crafting, which is most common, purchase from NPCs, and finding walls when venturing the world. Crafted and purchased walls initially exist as items in the inventory whereas found walls (harvested walls) are obtained by removing naturally generated wall tiles in natural structures like Shrines and Pyramids. In the case of crafting, one item of crafting material generally crafts four of its corresponding wall items. Most walls can also be crafted back into the items they were made from (four walls to one item), except for any wall crafted from more than one ingredient (e.g., Stained Glass). Housing walls have the ability of preventing enemies from spawning (but do not do anything to prevent their passage) and a mostly unbroken background of housing wall tiles is necessary for a structure to qualify as a house for attracting NPCs, or to place a Bed that can set a player's spawn point.
Natural walls are unuseable walls that do not exist as obtainable items; they can be removed, but drop nothing. Most naturally generated walls behave like this (hence the name) with harvested walls being an exception. Natural walls will not stop enemies from spawning, and cannot be utilized for houses. They also have a quirk in that they must be removed by starting from their edge (i.e., adjacent space with no wall), which for explosives means that an edge must exist somewhere within the radius of the explosion.
Differing housing walls from natural walls can be tricky because many walls, such as Obsidian Brick Walls or Dungeon Brick Walls, exist in both natural and housing forms. With these walls (both of which are harvestable), the player must break the natural walls and re-place them in order for them to count as housing walls (this is not necessary on the
 Desktop version). Similarly, many natural walls (all, on

) have housing counterparts which are obtainable through crafting or purchase from NPCs. Because of this, there is in fact no wall type which is "completely" natural in the sense of not existing as a housing wall in some way.
These walls are made by the player using various crafting materials. All crafted walls qualify for housing.
These walls are purchased from various NPCs. All purchased walls except Sail qualify for housing.
These walls can be harvested in various places when exploring the world. Most of them can also be obtained through crafting. All harvested walls qualify for housing.
These walls are normally created by biome spread. They can also be made using Solution sprayed with the Clentaminator, and on the
 Desktop version and

 Mobile version they can also be crafted or purchased (with the exception of the natural Mushroom Wall). On the

 Console version,

 Old-gen console version, and 3DS

 version the Clentaminator is the only way the player can make these walls. These walls qualify for housing when they are crafted or purchased, but do not if they are created by biome spread or the Clentaminator.

 Desktop version
Desktop 1.4.0.1: Made several wall types craftable that were previously unobtainable through the use of Ecto Mist.
Desktop 1.3.1: Most wall inventory sprites updated. Which ones were not are currently unknown.
Desktop 1.3.0.4: Fixed walls not framing properly in camera mode snapshots.
Desktop 1.3.0.1:

Bug fixed: The Blue Slab Wall is now valid for housing if placed by a player.
Added Honeyfall, Granite, Smooth Granite, Marble, Smooth Marble, Chlorophyte Brick, Shroomite Plating, Martian Conduit, Luminite Brick, Meteorite Brick, and Crimtane Brick walls.
Many naturally generated walls have a new appearance.
Now you can place walls in front of each other.
Desktop 1.2.0.3:

Lihzahrd Wall added.
You can now craft living wood walls.
Snow particles will no longer spawn on backwalls.
Desktop 1.0.6.1: Walls that are automatically placed to fill small gaps are now correctly taken from the player's Inventory.
Desktop 1.0.6: When placing background walls, one-block holes are now automatically filled in.