The
Blade of Grass
is a sword made with certain materials from the
Underground Jungle
. It has the second longest melee range in the game (second only to the
Breaker Blade
). The Blade of Grass is able to hit
monsters
that are behind a character due to its length; however, the knockback may cause monsters to fly up onto the user's head. The Blade of Grass is also a good weapon to use against the
Eye of Cthulhu
due to its relatively easy accessibility, wide arc of fire, and ability to poison. The Blade of Grass is one of the four swords required to craft the
Night's Edge
.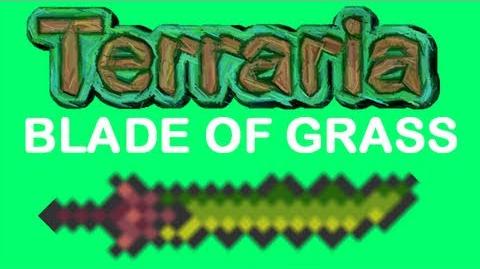 Notes
Trivia
The sword's name is a play on words, referring to the fact that a single grass sprout is called a 'blade' of grass.
There is an episode on the show "Adventure Time" with the same name, along with a similar sword featured in it.
Gallery
Update Info
Recipe changed to only need 12 stingers, was previously 15.
No longer requires a Silver Broadsword or Jungle Roses to be crafted.
Uses Jungle Spores instead.
No longer a drop from hornets.
Changed speed to Average from Slow.
Extended range.
Has a chance to inflict Poisoned debuff.
Community content is available under
CC-BY-SA
unless otherwise noted.