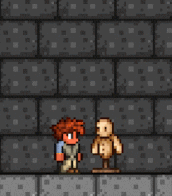 The Bladed Glove is a rare fast-hitting melee weapon with short range that can drop only during the Halloween seasonal event. It can be a very effective weapon when fighting pre-hardmode melee enemies. The Bladed Glove is similar to the hardmode weapon, the Fetid Baghnakhs.
Its best modifier is Legendary.
How to obtain
[
]
The Bladed Glove has a 0.05*1/2000 (0.05%) chance of being dropped by any weak enemy during the Halloween seasonal event. Weak enemies are enemies with less than 20 defense, 40 damage and up to 5 of loot. These will be mostly pre hardmode enemies. When playing in expert mode all enemies are much stronger and therefore these conditions limit the number of enemies that can drop the Bloody Machete and Bladed Glove to just a couple, especially during hardmode. See the table below for clarification.
Weak enemies in Expert Mode (

) 
Always
Only before Hardmode
Only during Hardmode

Antlion
Misassembled Skeleton
Astronaut Skeleton
Salamander
Martian Probe
Servant of Cthulhu


Umbrella Slime
Ice Slime
Spiked Ice Slime
Sand Slime
Lava Slime
Spiked Slime
Cave Bat
Ice Bat
Demon Eye
Cataract Eye
Dilated Eye
Sleepy Eye
Purple Eye
Owl Eye
Little Eater
Vulture
Zombie
Bald Zombie
Pincushion Zombie
Slimed Zombie
Twiggy Zombie
Female Zombie
Swamp Zombie
Raincoat Zombie
Frozen Zombie
Superhero Zombie
Pixie Zombie
Giant Shelly
Flying Fish
Raven
Goblin Peon


Mother Slime
Skeleton
Headache Skeleton
Pantless Skeleton
Martian Skeleton
Blood Zombie
Goblin Scout
Undead Miner
Goblin Thief

Tips
[
]
Trivia
[
]
This item is a reference to Freddy Krueger's glove in the film A Nightmare on Elm Street, compliant with the situation in which it drops (Halloween).
The Fetid Baghnakhs could be considered the superior Hardmode variant of the Bladed Glove.
On mobile, the blade part of the bladed gloves used to change color as you swung if it had the Legendary modifier.
History
[
]
 Desktop version