The
Blazing Wheel
is a hazardous, unkillable monster that spins around the edges of walls in the
Dungeon
.
Movement
They will move around closed doors and through open ones.
Blazing Wheels will travel through platforms.
If you remove the blocks below a Blazing Wheel it will fly off in the direction it was moving.
They will go around actuated blocks but through inactive stone blocks.
Notes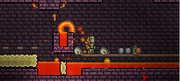 The Blazing Wheel can only be destroyed by riding a minecart into it. Keep in mind that it drops nothing upon death except hearts.
It spawns like any other monster, so it cannot spawn if a large number of other monsters are on the screen at once.
Trapping it in another room by placing or closing a door is an effective means of dealing with it.
Sometimes when a Blazing Wheel is going down a wall covered in Spikes, it will jump off the wall and fall in a line until it hits another surface to stick to.
It is actually possible to let the Blazing Wheel out of the Dungeon, by simply opening the right doors. It will continue its way outside until it finds a place where it gets stuck (eg. Tiles placed too close to each other to continue) after which it will turn around and head back in the direction of the Dungeon, or it will simply remain stuck, vibrating around in an enclosed area.
The wheels spawn only in an area marked with the Molten Legion Flag.
Trivia
This enemy behaves similarly to the Spark enemy in the Legend of Zelda series.
This monster is also similar in appearance and behavior to the Hot Head from the Mario series, and the Rinka from the Metroid series.
On Terraria Mobile Edition, immortal monsters have a health bar, but don't take damage.
Gallery
Update Info