Bone



Projectile created
Bone

 Obtained from

 Classic

 Expert

 Master
"

Got any spare bones for sale? I'm looking to replace my broken hip... again.
Bones are crafting materials, consumable ranged weapons, and ammunition for the Bone Glove. They are dropped by Angry Bones, Dark Casters, and Cursed Skulls, which spawn in the Dungeon. On the Nintendo 3DS

 version, Bones are also dropped by normal Skeletons.
Bones are greatly affected by gravity, and arc similarly to Throwing Knives and Shurikens. Of these three consumable ranged weapons, Bones have the least range (Throwing Knives having the greatest). When used as weapons, Bones have a 50*1/2 (50%) chance of being retrievable after use, even if they hit enemies.
Furthermore, Bones can be placed as blocks using the Bone Wand, upon which they become Bone Blocks.
Crafting
[
]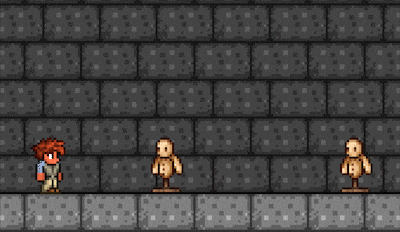 Recipes
[
]
Result
Ingredients
Crafting station
Bone (     )
Bone Welder

Bone ()
Bone (   )
By Hand
Bone ()
Work Bench
Used in
[
]
Result
Ingredients
Crafting station
Nebula Piano

Ancient Manipulator

Solar Piano

Stardust Piano

Vortex Piano

Bone Bathtub

Bone Welder

Bone Bed

Bone Block Wall

(4)

(     )
Bone Bookcase

Bone Candelabra

Bone Chair
Bone Chandelier

Bone Chest

Bone Clock

Bone Door
Bone Dresser

Bone Lamp

Bone Lantern

Bone Piano

Bone Platform

(2)

()
Bone Sink

Bone Sofa

Bone Table
Bone Toilet

Bone Work Bench (     )
Bone Platform

(2)

(   )
By Hand
Bone Work Bench ()
Lesion Piano

Decay Chamber

Void Bag

Demon Altar
or
Crimson Altar
Void Vault

Flesh Piano
Flesh Cloning Vat

Teapot

Furnace
Glass Piano

Glass Kiln

Honey Piano
Honey Dispenser

Frozen Piano

Ice Machine

Lihzahrd Piano

Lihzahrd Furnace

Living Wood Piano
Living Loom

Plaguebringer's Skull

Loom
Timeless Traveler's Hood

Mechanical Skull
Mythril Anvil
or
Orichalcum Anvil
Titan Potion

Placed Bottle
or
Alchemy Table

Bamboo Piano

Sawmill
Boreal Wood Piano

Cactus Piano (   )
Crystal Piano

Dynasty Piano (   )
Ebonwood Piano
Granite Piano

Marble Piano

Martian Piano

Meteorite Piano

Mushroom Piano

Palm Wood Piano

Pearlwood Piano
Piano
Pumpkin Piano (   )
Rich Mahogany Piano
Sandstone Piano

Shadewood Piano
Spider Piano

Spooky Piano (   )
Skyware Piano

Sky Mill

Slime Piano
Solidifier
Steampunk Piano

Steampunk Boiler

Bone Block Wall

(4)

()
Work Bench
Bone Chair ()
Bone Door ()
Bone Table ()
Cactus Piano (  )
Dynasty Piano ()
Necro Breastplate
Necro Greaves
Necro Helmet
Pumpkin Piano

Skull Lantern
Spinal Tap

Spooky Piano ()
Notes
[
]
The Skeleton Merchant

will use Bones to defend himself if needed. The bones thrown by him are not retrievable.
In Expert Mode

, Skeletons can throw bones at the player, making them far more dangerous.

Since Bones are used as ammo by the Bone Glove

, they can be stored in the ammo slots of the inventory.

Since 1.4.1

, Bones cannot be stored in ammo slots due to the Bone Glove being changed from a ranged weapon to an accessory. Any bones placed in the ammo slots prior to the update will still be located there.

While it may appear that ordinary Bones do more damage than the Bone Glove, the damage from Bones used as ammo is added to the Bone Glove's damage.
Tips
[
]
Trivia
[
]
Taking only basic ammunition (arrows and bullets) into consideration, Bones have the second-highest base damage, beaten only by Luminite Bullets

.
History
[
]
 Desktop version
Desktop 1.4.0.1:

Now used to craft the Void Bag, Void Vault and many new furniture.
Weapon type changed from Throwing to Ranged.
Can no longer be retrieved after using.
Desktop 1.3.0.1:

Damage decreased from 22 to 20.
Knockback from 4 to 2.3.
Weapon type changed from Ranged to Throwing.

 Console version

 Nintendo Switch version

 Mobile version