Bone Javelin
| | |
| --- | --- |
| Debuff | Penetrated |
| Debuff tooltip | Bleeding Out |
| Chance | 100% |
| Duration | 15 seconds |
Projectile created
Bone Javelin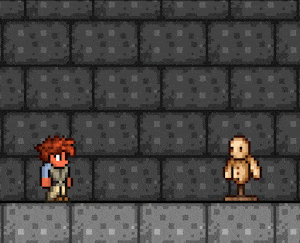 The Bone Javelin is a consumable ranged / throwing weapon crafted from Sturdy Fossils. Upon hitting an enemy, it will stick to the enemy and inflict the Penetrated debuff, dealing 3 damage per second. Up to six Bone Javelins can be pierced onto an enemy, dealing a total of 18 damage a second. Bone Javelins stuck in an enemy will dissipate after 15 seconds. Bone Javelins have no chance of dropping themselves after impacting blocks or hitting enemies.
Crafting
[
]
Recipes
[
]
Result
Ingredients
Crafting station
Bone Javelin

(20)

( )
Iron Anvil
or
Lead Anvil
Bone Javelin

(15)

()
Notes
[
]
Tips
[
]
The Bone Javelin is a powerful pre-Hardmode weapon with its high base damage of 20 and long sticking effect. Combined with Fossil armor, this weapon could easily two-shot most pre-Hardmode enemies and is still viable in early Hardmode. However, it lacks the piercing ability of the Bone Throwing Knife, making it most effective against single enemies.
Trivia
[
]
The Penetrated debuff can never be applied to players, so it lacks a correct debuff icon. It instead uses a duplicate of the Distorted debuff's icon.
Bone Javelins act similar to a Daybreak which both stick to an enemy and inflict a stacking damage debuff.
See also
[
]
Immune NPCs
[
]
History
[
]
 Desktop version
Desktop 1.4.0.1:

Damage decreased from 29 to 20.
Now crafted by 20 instead of 15.
Weapon type changed from Throwing to Ranged.

 Console version

 Switch version

 Mobile version