I Boss sono nemici grandi, aggressivi, resistenti che offrono una sfida impegnativa al giocatore. Esistono numerosi Boss e altri ne saranno aggiunti nelle versioni future, alcuni sono esclusive di determinate versioni di terraria, ed ognuno ha un metodo particolare per essere evocato. Un messaggio di avvertimento apparirà quando un Boss sta per attaccare il giocatore. Sconfiggere un boss determina la comparsa di un messaggio di congratulazioni e la vincita di alcuni oggetti.
Pre-Hardmode Boss
[
]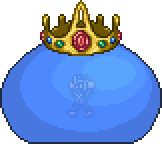 Il Re Slime è una enorme gelatina blu con 2000 punti vita. Viene evocato con una Corona Slime, e può apparire nella mappa completamente da sola. Come tutti i mostri che appaiono naturalmente, il Re Slime ha più probabilità di apparire se si tiene in mano una Candela d'acqua o se si è sotto l'effetto di una Pozione battaglia. Il Re Slime è una buona sfida per i neogiocatori e può essere facilmente sconfitto usando attentamente il terreno.
Il Re Slime non incide sull'avanzamento di gioco ma lascia comunque delle monete e una parte del set abiti Ninja.
Occhio di Cthulhu

[

]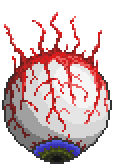 Quando il giocatore ha 200 punti vita o più, e ci sono almeno 3 NPC nelle case, e il giocatore ha almeno 10 punti difesa, l'Occhio di Cthulhu ha una possibilità su tre di apparire all'inizio di una qualunque notte, e continuerà finché non viene sconfitto per la prima volta. Può anche essere evocato con un'Occhio dallo sguardo sospetto di notte.
Dato che questo Boss può apparire senza che il giocatore lo voglia, è probabilmente il primo che si affronterà. E' anche considerato il più facile da battere, ma è comunque una sfida impegnativa, specialmente per i nuovi giocatori. L'occhio di Chtulhu si muove come un normale boss e si scaglia contro il giocatore. Dopo avergli tolto metà della vita, il bulbo oculare diventerà una bocca famelica.
Divoratore di Mondi

[

]
Il Divoratore di Mondi viene evocato con Cibo per vermi. Apparirà anche ogni volta che verranno distrutte tre Sfere d'ombra. Il Divoratore di Mondi può essere evocato solo nella Corruzione, e se prova ad uscire dalla Corruzione, sparirà. Il Divoratore è una sfida anche per i giocatori di medio livello, in quanto è un grande verme che può passare attraverso i blocchi, ed è fatto da sezioni che possono attaccare separatamente (con le teste separate) quando viene diviso. Per sconfiggere questo Boss, ogni parte con almeno 2 segmenti dovrà essere sconfitta (la più piccola sezione possibile è formata da una testa e una coda senza parti intermedie).
Il DIvoratore di Mondi è l'unica fonte di Scaglie d'ombra nel gioco, e rilascia una gran quantità di Minerale demoniaco.
Cervello di Cthulhu

[

]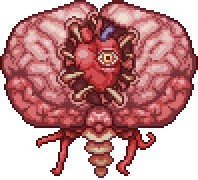 Cervello di Cthulhu Apparirà ogni volta che verranno distrutti tre Crimson Hearts. Questi cuori sono trovabili nelle caverne del bioma Crimson, saranno circondati dalla Crimstone. La pietra cremisi per essere tolta ha bisogno di : o un Pickaxe con 65% di potenza o più , oppure si possono usare gli Explosives o la Polvere Purificatrice. Una volta fatto questo, i cuori cremisi potranno essere tolti con l'ausilio di un Martello qualsiasi. Il cervello di Cthulhu può essere creato anche usando una Bloody Spine. Può nascere solo nel bioma crimson.
Il cervello di Cthulhu ha solo 1,000 PV ma ha due forme: nella prima forma, il cervello non potrà essere attaccato ma dei Creepers gli fluttueranno attorno. Dopo che questi creepers verranno uccisi il cervello entrerà nella seconda forma, e inizierà a scontrarsi con te, mentre ti attaccherà potra teletrasportarsi,quindi dovrai essere munito di un arma di medio raggio. Dispetto agli altri boss, il cervello di Cthulhu non sara immune al knockback .
Il cervello di Cthulhu è l'unica fonte dei Tissue Samples nel gioco (oltre ai vari creepers che verranno creati da quest' ultimo), rilascia una grande quantità di Crimtane Ore.
Ape Regina

[

]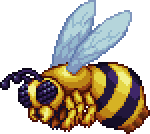 Ape Regina is summoned by destroying the Queen Bee's offspring encased in honey in the beehive structure, which is located in the underground jungle, or by the use of an Abeemination anywhere in the jungle, and is the only source of Bee Wax, except on the console. Queen Bee is immune to knockback.
Skeletron

[

]

Skeletron viene evocato parlando con Vecchio all'entrata del Dungeon di notte. Questo è l'unico modo di evocarlo, e una volta sconfitto non potrà più essere rievocato se non equipaggiando la bambola wodoo del merciaio e uccidendo il commerciante di stoffe. Battere Skeletron dà al giocatore il permesso di entrare nel Dungeon senza essere attaccato dal Guardiano del Dungeon. Il Dungeon contiene molti oggetti unici.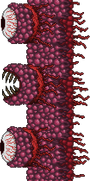 Muro di Carne

[

]
Il Muro di Carne (comunemente detto anche WoF dall'inglese)è un potente boss circondato da diversi scagnozzi chiamati l'affamato e viene evocato gettando una Bambola Vodoo della Guida in una piscina di lava nell'Inferno quando c'è una guida viva nel mondo. Battere questo mostro attiverà irreversibilente la Hardmode nel mondo, e sarà possibile creare gli oggetti evocativi per i 3 Boss della Hardmode. Si ottengono molti oggetti utili battendolo, e quando la Hardmode viene attivata il giocatore può distruggere gli Altari demoniaci per far comparire i minerali dell'Hardmode.
I Gemelli

[

]
I Gemelli sono la controparte Hardmode dell'Occhio di Cthulhu. Ha due occhi con ognuno il 50% di vita del Boss. Hanno 24.000 punti vita ciascuno e in tutto 48.000. I Gemelli vengono evocati creando e usando un Occhio Meccanico di notte. Come è noto, nella loro seconda forma avranno un sensibile aumento della difesa.
Il Distruttore

[

]

Il Distruttore è la controparte Hardmode del Divoratore di Mondi, con 80.000 punti vita. Sembra simile alla sua controparte, ma ha alcune differenze: non si dividerà in segmenti più piccoli, sparerà laser dal corpo quando potrà, e genererà alcune Sonde per attaccare il giocatore. Il Distruttore viene evocato usando un Verme Meccanico ovunque, ma solo di notte.
Skeletron Prime

[

]

Skeletron Prime è la versione Hardmode di Skeletron, e la sua testa ha 30.000 punti vita. Al posto delle due mani ha una chela, una pistola laser, una motosega e un cannone che spara bombe. Con la testa e i gli arti, Skeletron Prime ha 63.000 punti vita totali. In più, diversamente da Skeletron, Skeletron Primo può essere evocato sullo stesso mondo per quante volte si vuole, usando un Teschio Meccanico. E' noto che quando ruota la testa in uno dei suoi pattern di attacco, la sua difesa sale, non come Skeletron, la cui difesa scende mentre ruota.
Plantera

[

]
Plantera is summoned prior to version 1.2.3 (and in the current console version) by destroying Plantera's Bulb in the underground jungle after slaying a mechanical boss. As of 1.2.3, you'll first need to kill all three Mechanical Bosses. Plantera has two stages: In the first stage Plantera clings to solid blocks using vine-like extensions. In this stage Plantera fires spiky projectiles much like Spiky Balls. In the second stage Plantera has increased speed and charges at the player. Once Plantera is defeated, the dungeon will automatically spawn hardmode monsters, such as the Paladin.
Golem

[

]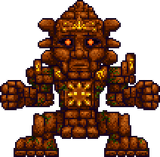 Il Golem is summoned by using a Lihzahrd Power Cell at the Lihzahrd Altar in the Jungle Temple. In order to access the Jungle Temple, you must first defeat Plantera to obtain the Temple Key.
Golem has two phases. During the first phase, the pieces you can attack are his fists and his head. Once his fists are destroyed he can not shoot them at you, which is recommended before you begin the second phase. After you destroy his head, the second phase begins, and all parts of his body will be vulnerable. The body jumps around a lot more during this phase, and the head will remain in battle, flying above the body shooting fireballs and lasers, but can't be harmed.
Duca Von Pesce

[

]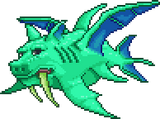 Duke Fishron è un boss della Hardmode. E' un pesce-maiale-drago ibrido con 50.000 di punti ferita e 50 di difesa. Si può spawnare con un Truffle Worm utilizzando una canna da pesca abbastanza potente e gettandola in un Ocean biome. Nella sua prima forma, Duke Fishron aspetta di colpire il giocatore 5 volte per poi sparare bolle esplosive o spawnare Sharknados. Nella sua seconda forma, Duke Fishron ottiene degli occhi luminosi e una velocità per attaccare e difendere. Anche se i suoi attacchi rimangono gli stessi, comincia a colpire il giocatore con bolle direzionali, vola in circolo e spara bolle dappertutto. Invece di evocare Sharknadoss in questa fase, Duke Fishron spawna grandi Cthulhunados. Rimane poi solo da battere il cavolo. Si dice essere il boss più potente di questo gioco, ma il Duke Fishron diventa molto semplice quando il giocatore è equipaggiato con Wings. Una volta ucciso dropperà al giocatore uno di questi item (raramente due): Tifone tagliente;un libro che permette al giocatore di lanciare a ripetizione dei cerchi di vento che inseguono i bersagli utilizzando il Mana, Ali di pesce drago; le ali di Duke Von Fish o Pistola Sparabolle.
Moon Lord e Cultilst Boss non disponibili
Event Bosses
[
]
Template:Boss