The Bunny Statue is an item that is found randomly underground. It spawns bunnies when powered with wires. It can only support spawning up to 3 bunnies at one time. However during a Blood Moon, there appears to be no limit on the amount of Corrupt Bunnies  that can be spawned from this statue.
Blood Moons will cause Corrupt Bunnies to spawn instead of regular Bunnies; this method can be used to farm Bunny Hoods by continuously slaughtering the spawned Corrupt Bunnies.
After the 1.2 update, it is no longer possible to farm money from Corrupt Bunnies spawned this way.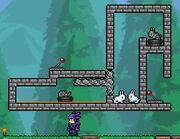 The Bunny Statue may also be used as an alternative to the crab engine if the player does not have a crab statue, as long as the bunny cannot jump out of a pit it will keep wandering back and forth endlessly, when used in conjunction with pressure plates the engine is faster than a 1 Second Timer.
Update Info
Statues
Decorative
Functional
Item-spawning
Mob-spawning
Community content is available under
CC-BY-SA
unless otherwise noted.