Chain Knife

Projectile created
Chain Knife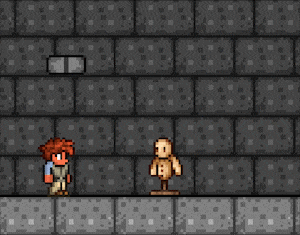 The Chain Knife is a melee weapon that throws a Knife-like projectile attached to a chain, similar to Flails, but the attack button cannot be held to wield it continuously. It only extends a short distance of 12 tiles, though its quick use time and velocity may make it a good early to mid-game weapon. It has a 0.4*1/250 (0.4%) chance of being dropped by a Cave Bat.
Its best modifier is Godly or Demonic. Both modifiers increase the average damage output by the same amount.
Tips
[
]
It is good at killing quick flying monsters. It is also good at killing large groups of Wall Creepers, and keeping the second form of the Brain of Cthulhu at bay.
A Bat Statue can be used to easily farm bats to obtain the Chain Knife. Note that drop rates from statue enemies are reduced by a factor of 5.

If the player finds a Bat statue underground before beating skeletron, they can put in onto a wire (in between a trap and its pressure plate) and step on the pressure plate to make a crude way of spawning more bats.

Although the weapon attacks quite quickly, it is very difficult to stunlock enemies with it due to its low knockback.
Trivia
[
]
Unlike most flails, this flail will not spin around the player, but instead attack the target directly before returning to the player.
Despite having worse stats overall, it sells for more than the Chain Guillotines on the  Console versions.
See also
[
]
History
[
]
 Desktop version
Desktop 1.4.0.1:

Damage increased from 11 to 12.
Item and projectile sprites updated.

 Console version

 Nintendo Switch version

 Mobile version