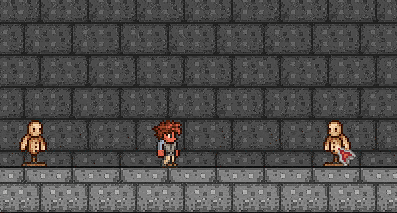 Counterweights are accessories sold by the Traveling Merchant and the Skeleton Merchant. They fire a second yoyo-type projectile after hitting an enemy with a yoyo, dealing the same damage of the yoyo and traveling towards it, then arcing over the player.
There are 6 variants, all functioning identically.
Types
[
]
From Traveling Merchant
[
]
Counterweight

Black Counterweight

Yellow Counterweight
From Skeleton Merchant
[
]
Crafting
[
]
Used in
[
]
Notes
[
]
Multiple equipped counterweights do not stack. Only one will function at a time.
The particular color equipped will display on a character, unlike the Yoyo Bag, which shows a random color.
A counterweight does not stack with the Yoyo Bag.
Trivia
[
]
Counterweights are real-world yo-yo accessories used to aid in tricks where the yo-yo is swung from the middle of the string rather than its end. Real-world counterweights are often patterned after (or made out of) polyhedral dice, and Terraria's follow suit: the Blue and Red Counterweights are four-sided (tetrahedral) dice, the Purple and Green Counterweights are six-sided (cubic/hexahedral) dice, and the Black and Yellow Counterweights are twelve-sided (dodecahedral) dice.
History
[
]
 Desktop version

 Console version

 Nintendo Switch version

 Mobile version