Crimtane Ore is an ore found in trace amounts in caves, especially in The Crimson. It is used to create Crimtane Bars (used to craft Crimtane weaponry and armor), and is the alternative to Demonite Ore.
Crimtane Ore is only minable using a Gold Pickaxe or better, though it can also be harvested using explosives. Like its counterpart, it can be mined with any pickaxe if found above ground level.
Notes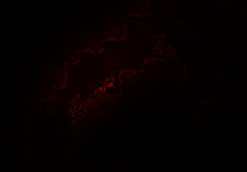 Crimtane Ore does not spread the Crimson.
The Brain of Cthulhu and Eye of Cthulhu drop large amounts of this ore, though the latter will only do so in worlds where the Crimson exists naturally.
Crimtane Ore emits a small amount of red light.
Update Info
Community content is available under
CC-BY-SA
unless otherwise noted.