The
Cross Necklace
is an accessory that was added in the 1.1 patch. This item can be found as a monster drop from
Mimics
. It increases the time you are invulnerable after being hit, which prevents large amounts of damage from stacking. It has been tested to roughly double the time for which you are invincible, which would mean that, against a boss like
The Destroyer
, you would take half as much damage. It is very good for boss fights where you would otherwise be overwhelmed with damage from all kinds of things. Recommended for aggressive combat styles that involves taking hits frequently.
The effect does NOT stack with Star Veil. This was tested with slow motion video capture. Regular invincibility lasts 1.5 seconds. Using the Cross Necklace or Star Veil increases this to 3 seconds.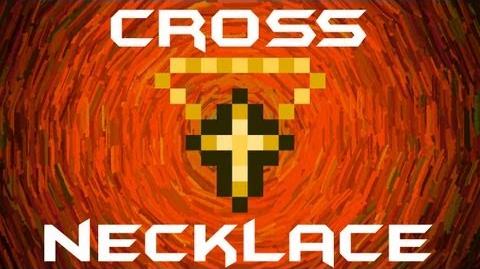 Notes
Even though the Cross Necklace has the same chance of being dropped by Mimics as other items (such as the Magic Dagger), it has a significantly lower selling and reforging price.
Update Info
Community content is available under
CC-BY-SA
unless otherwise noted.