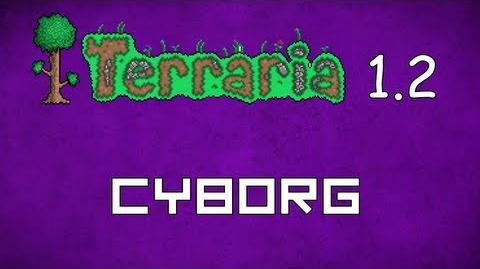 The
Cyborg
is an
NPC
added in the 1.2 update. He only spawns once you defeat the
Hard Mode
boss,
Plantera
and there is a house available for him.
Sells
Cyborg's Names
A.N.D.Y
Alpha
Beta
Ci
Delta
Fender
Gamma
Kappa
Lambda
Mu
Niner-7
Nu
Omega
Omicron
Phi
Rho
Sigma
Syn-X
T-3E0
Theta
Upsilon
Zeta
Trivia
Fender is a possible reference to the Futurama character, Bender; "Fender Bender", a phrase reffering to a car crash.
T-3E0 might be a reference to the Star Wars character C-3P0.
A.N.D.Y. is possibly (although not likely) a reference to Andy the bomb, from RoosterTeeth's "Red VS Blue" Halo series.
Update Info