This is an index of "Data IDs" for elements in Terraria. They're useful in a number of applications, such as developing mods or generating NPCs/items. This is a list of IDs in PC. Console mentions are just a courtesy (mostly for XBOX360 users).
Tip: To find a certain item on this page, you can press the CTRL and F keys on your keyboard at the same time. This brings up the "Find" feature in most web browsers, which allows you to search for text on this page. Type in the name of the item to jump right to it.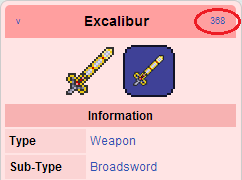 Tip: Make use of the expand/collapse links and the sortable tables on this page.
Tip: Item IDs can also be found on almost every item page — just look in the infobox. The number in the upper-right corner of the infobox is the Item ID. For example, the picture to the right shows the Item ID (368) for Excalibur as it appears in the infobox.
Data IDs
You can expand or collapse this section by clicking the link >>
IDs -48 to -1
Positive IDs
| | | | | |
| --- | --- | --- | --- | --- |
| IDs 1-900 | IDs 901-1800 | IDs 1801-2700 | IDs 2701 - 3600 | IDs 3601-4500 |
NPC IDs
You can expand or collapse this section by clicking the link >>
Buff & Debuff IDs
You can expand or collapse this section by clicking the link >>
See the Buffs and Debuffs pages, respectively, for more information.
Color-Code: Green = Buff; Red = Debuff; Blue = Pet
| ID | Buff / Debuff Name | Description |
| --- | --- | --- |
| 1 | Obsidian Skin | Immunity to lava |
| 2 | Regeneration | Provides life regeneration |
| 3 | Swiftness | 25% increased movement speed |
| 4 | Gills | Breathe water instead of air |
| 5 | Ironskin | Increase defense by 8 |
| 6 | Mana Regeneration | Increased Mana regeneration |
| 7 | Magic Power | 20% increased magic damage |
| 8 | Featherfall | Slows down falling [Press UP or DOWN to control the speed of descent] |
| 9 | Spelunker | Shows the location of treasure and ore |
| 10 | Invisibility | Makes you invisible; Armor can still be seen [Grants invisibility] |
| 11 | Shine | You emit light [Emitting light] |
| 12 | Night Owl | Increased night vision |
| 13 | Battle | Increased enemy spawn rate |
| 14 | Thorns | Attackers also take damage |
| 15 | Water Walking | Walk on water and lava [Press DOWN to enter water or lava] |
| 16 | Archery | 20% increased arrow damage and speed |
| 17 | Hunter | Shows the location of enemies |
| 18 | Gravitation | Press UP or DOWN to reverse gravity |
| 19 | Shadow Orb | Spawns a magical orb that follows you and provides light [A magical orb that provides light] |
| 20 | Poisoned | Slowly take damage over time [Slowly losing life] |
| 21 | Potion Sickness | Can't use any healing items [Cannot consume anymore healing items] |
| 22 | Darkness | Decreased light vision |
| 23 | Cursed | Cannot use any items |
| 24 | On Fire | Slowly take damage over time |
| 25 | Tipsy | 4 increased Melee attack, -4 Defense [Increased melee abilities, lowered defense] |
| 26 | Well Fed | Minor improvements to all stats |
| 27 | Fairy | Similar to Shadow Orb, but brighter, faster, and blue, green, or red light |
| 28 | Werewolf | Increased physical abilities, has no effect |
| 29 | Clairvoyance | Magic powers are increased [increased magic strength and mana regeneration] |
| 30 | Bleeding | Can not restore life |
| 31 | Confused | Reversed controls |
| 32 | Slow | Reduced movement speed [jump not affected] |
| 33 | Weak | Physical abilities are decreased [reduced damage] |
| 34 | Merfolk | Can breathe and move easily underwater |
| 35 | Silenced | Cannot use items that require mana [can't cast spells] |
| 36 | Broken Armor | Defense is cut in half |
| 37 | Horrified | You have seen something nasty, there is no escape, no effect |
| 38 | The Tongue | You are being sucked into the mouth |
| 39 | Cursed Inferno | Losing life, cannot be put out by water |
| 40 | Pet Bunny | I think it wants your carrot |
| 41 | Baby Penguin | I think it wants your fish |
| 42 | Pet Turtle | Happy turtle time! |
| 43 | Paladin's Shield | 25% of damage taken will be redirected to another player |
| 44 | Frostburn | It's either really hot or really cold. Either way it REALLY hurts |
| 45 | Baby Eater | A baby Eater of Souls is following you |
| 46 | Chilled | Your movement speed has been reduced |
| 47 | Frozen | You can't move! |
| 48 | Honey | Life regeneration is increased |
| 49 | Pygmies | The pygmies will fight for you |
| 50 | Baby Skeletron Head | Don't even ask... |
| 51 | Baby Hornet | It thinks you are its mother |
| 52 | Tiki Spirit | A friendly spirit is following you |
| 53 | Pet Lizard | Chillin' like a reptilian |
| 54 | Pet Parrot | Polly want's the cracker |
| 55 | Baby Truffle | Isn't this just soooo cute? |
| 56 | Pet Sapling | A little sapling is following you |
| 57 | Wisp | A wisp is following you |
| 58 | Rapid Healing | Life regeneration is greatly increased |
| 59 | Shadow Dodge | You will dodge the next attack |
| 60 | Leaf Crystal | Shoots crystal leaves at nearby enemies |
| 61 | Baby Dinosaur | A baby dinosaur is following you |
| 62 | Ice Barrier | Defense is increased by 30 |
| 63 | Panic! | Movement speed is increased |
| 64 | Baby Slime | The baby slime will fight for you |
| 65 | Eyeball Spring | An eyeball spring is following you |
| 66 | Baby Snowman | A baby snowman is following you |
| 67 | Burning | Losing life and slowed movement |
| 68 | Suffocation | Losing life |
| 69 | Ichor | Reduced defense |
| 70 | Venom | Losing life |
| 71 | Weapon Imbue: Venom | Melee attacks inflict venom on your targets |
| 72 | Midas | Drop more money on death |
| 73 | Weapon Imbue: Cursed Flames | Melee attacks inflict enemies with cursed flames |
| 74 | Weapon Imbue: Fire | Melee attacks set enemies on fire |
| 75 | Weapon Imbue: Gold | Melee attacks make enemies drop more gold |
| 76 | Weapon Imbue: Ichor | Melee attacks decrease enemies defense |
| 77 | Weapon Imbue: Nanites | Melee attacks confuse enemies |
| 78 | Weapon Imbue: Confetti | Melee attacks cause confetti to appear |
| 79 | Weapon Imbue: Poison | Melee attacks poison enemies |
| 80 | Blackout | Light vision severely reduced |
| 81 | Pet Spider | A spider is following you |
| 82 | Squashling | A squashling is following you |
| 83 | Ravens | The ravens will attack your enemies |
| 84 | Black Cat | A black kitty is following you |
| 85 | Cursed Sapling | A cursed sapling is following you |
| 86 | Water Candle | Increased monster spawn rate |
| 87 | Campfire | Life regen is slightly increased |
| 88 | Chaos State | Using the Rod of Discord will take life |
| 89 | Heart Lamp | Life regen is increased |
| 90 | Rudolph | Riding the red nosed reindeer |
| 91 | Puppy | A puppy is following you |
| 92 | Baby Grinch | A baby grinch is following you |
| 93 | Ammo Box | 20% chance to not consume ammo |
| 94 | Mana Sickness | Magic damage reduced |
| 95 | Beetle Endurance | Damage taken reduced by 15% |
| 96 | Beetle Endurance | Damage taken reduced by 30% |
| 97 | Beetle Endurance | Damage taken reduced by 45% |
| 98 | Beetle Might | Melee damage and speed increased by 10% |
| 99 | Beetle Might | Melee damage and speed increased by 20% |
| 100 | Beetle Might | Melee damage and speed increased by 30% |
| 101 | Fairy | A fairy is following you |
| 102 | Fairy | A fairy is following you |
| 103 | Wet | You are dripping water |