Diamond Staff
Diamond Staff
Projectile created
Diamond Bolt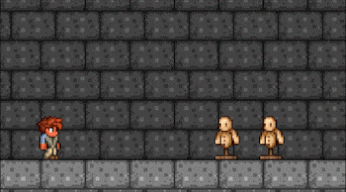 The Diamond Staff is the strongest of the 7 different gem/bar staffs. It does a high amount of damage, has a high fire rate, pierces 1 enemy, is auto-fire, and has a medium mana cost, making it a viable magic weapon in the early game if the resources to craft it can be found.
Its best modifier is Mythical.
Result
Ingredients
Crafting station
Diamond Staff
Iron Anvil
or
Lead Anvil
The bolts fired from the Diamond Staff (and other gem staves, as well as the Spectre Staff) can pass through the slanted side of sloped blocks.
This is the strongest of the gem staves.
 Desktop version
Desktop 1.2.3:

Damage decreased and mana cost increased.
Piercing was reduced from 3 enemies to only 1 enemy.

 Console version

 Switch version

 Mobile version