Doctor Bones is a rare mob that looks just like a Zombie, except that it wears an Archaeologist's Hat. Upon being killed, it will drop the Archaeologist's Hat. He will only spawn in the Jungle, above or underground, but he is more likely to spawn on a blood moon. 
Notes
Water Candles have an effect on Doctor Bones, increasing his spawn rate, making it easier for it to spawn.
Doctor Bones appears to spawn more often during a Blood Moon.
It appears that killing about 70-100 Zombies increase the chance to spawn him, which is similar to Demon Eyes and the Eye of Cthulhu. This theory was tested during a Blood Moon and a total of 3 Doctor Bones appeared.
Doctor Bones, unlike other Zombies, doesn't jump up and down and appears to move like the players when Terraria was first released.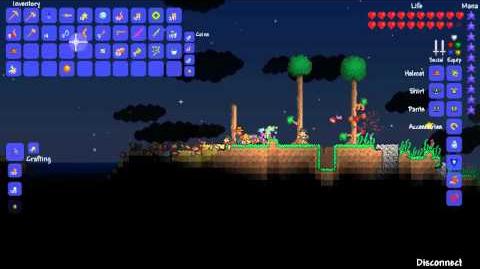 Trivia
The mob's name is probably a reference to Indiana Jones, who is often referred to as Doctor Jones. Indiana Jones is an archaeologist who wears the same hat Doctor Bones wears.
Occasionally, Terraria will show up in the taskbar as "Terraria: Doctor Bones and the Temple of Blood Moon", a reference to the film "Indiana Jones and the Temple of Doom".
Update Info
Doctor Bones can now only spawn in the Jungle and Underground Jungle.
Community content is available under
CC-BY-SA
unless otherwise noted.