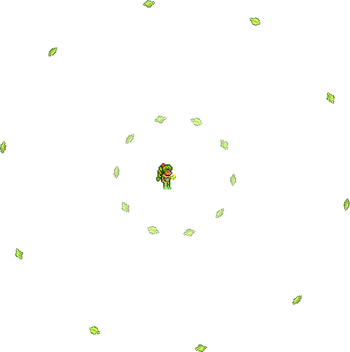 Dryad's Blessing is a buff granted through the Dryad's NPC action. Rather than attacking nearby enemies, the Dryad casts a shield of leaves while enemies are near.
All players and NPCs will gain the following effects while within the range of the Dryad's ability:
+50% Thorns effect to players (50% damage reflected onto attacker, stackable with Thorns buff only) and +33.33% Thorns effect to NPCs[2]
+3 Health per second regeneration rate to players and +3.33 Health per second to NPCs[3]
Visual effect: Green sparkle trail from feet while moving
Enemies are afflicted with the Dryad's Bane debuff, which applies 4 damage per-second to enemies within the Dryad's leaf field. This debuff deals additional damage based on players' progression through the current world; see NPCs#Stat boosts for the specific details of these progression boosts. Additionally, the total progression boost is multiplied by a game mode-specific multiplier: 1.0× / 1.5× / 1.75×. So if, for example, the current progression boost is +40% total and the world is in Expert Mode, the Dryad's Bane damage is actually raised by (1.4 × 1.5) = 2.1 = +110%. The final damage rate is rounded down, so e.g. 4 damage per second × 2.7 = 10.8, rounded down to 10.[4]
Notes
[
]
The buff stacks with the Thorns buff, but not with the thorns effect from the Turtle armor set bonus, which overrides it.
On the  Desktop version,  Console version,  Mobile version, and  Nintendo Switch version, this buff is overridden by the Thorns buff, but it does stack with Cactus armor's set bonus.

The reflected damage is capped at 1000.
Trivia
[
]
The tooltip of Dryad's Bane is based on the phrase, "The power of Christ compels you!" from the classic film The Exorcist.
Immune NPCs
[
]
History
[
]
 Desktop version
Desktop 1.4.1: The Thorns effect from the Dryad's Blessing buff has been increased from 20% of the damage taken to 50%.

 Console version

 Nintendo Switch version

 Mobile version
References
[
]