The 
Dungeon Guardian
is an enemy that spawns if the player enters the
dungeon
in a world where
Skeletron
has not been killed. It will appear in order to kill the player as soon as the dungeon music starts. In addition, it will also target any other players in the vicinity of the player who entered the dungeon.
Due to its unattainably high attack and defense, the Dungeon Guardian will always take 1 damage from all attacks (except criticals, which deal 2 damage) and will kill any player in one hit unless they have the Master Ninja Gear or Black Belt which has a chance to dodge attacks. A player with max HP and the maximum Beetle Endurance Buff may survive one hit from this monster as well. Even if a dungeon guardian is killed, access is still not allowed in the dungeon as more and more guardians will appear each time you kill them.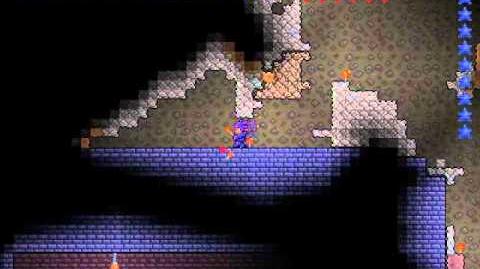 History
Before the Dungeon Guardian existed, there were numerous Skeletron Heads which is just Skeletron without the arms. These heads fulfilled a similar role but can be killed easily and didn't kill the player in one hit. Unlike with the Dungeon Guardian, killing all of the Skeletron Heads after they appear will grant the player access to the Dungeon as if they had killed Skeletron normally. The Dungeon Guardian was presumably introduced to counteract this unintended behavior.
Strategies
Due to the high defense of the Dungeon Guardian, it is best to use armor/accessories that boost your critical strike chance rather than damage, and use a rapid hitting weapon such as a Megashark or S.D.M.G. with Crystal Bullets to increase the number of times you hit it.
One tactic that can be used to kill the Dungeon Guardian (post 1.2) is to make a skybridge out of Asphalt Blocks. Run on the asphalt with Hermes/Flurry/Spectre/Lightning Boots in order to maintain a faster speed than the dungeon guardian. Get four Teleporters and set them one on each end and then an other 60-70 blocks away from the one nearest to the edge. Put a pressure plate on each of the edge teleporters and wire them so that once you step on it, you teleport in the opposite direction.
This will allow you to switch running directions without being killed by the guardian. If using a Minishark or Megashark, this fight should take you no longer than 10-15 minutes.
Another useful and common tactic is to wear Frost Armor and use 3-4 Gravitation Potions, any rapid-firing weapon and Chlorophyte bullets, wearing Wings and reforge all your accessories so they grant maximum critical chance. Activate your Gravitation Potion, dig a straight line into the dungeon, and once you hear the sound you hear when summoning any boss you press the "Up" button (Default on W), flap your wings very shortly so he can catch up and start firing at it. To make distance between you and the Dungeon Guardian you wait a bit longer before you flip back and forth using your Gravitation Potion, and to close the distance you keep it fast-paced.
It will take you around 7-10 minutes and if you combine this with Ammo Reservation Potions and an Ammo Box, you (most likely) only need your ammo bar full of Chlorophyte Bullets and (most likely again) still have a nice amount of bullets left.
You can also use the Piranha Gun and Frost Armor, since the Dungeon Guardian is affected by Frostburn and the Piranha Gun latches onto the Dungeon Guardian, making it easier because you don't have to aim, however, you need to be close, else the Piranha will return and need to be fired again.
A cheatsy yet effective way to farm for the Bone Key is to make a Hoik, which is a teleportation exploit that allows players to shift through ramp blocks into other teleporters, etc.
To defeat the Dungeon Guardian in early hardmode without too much hassle, crystal bullets can be used in a minishark while flying over a skybridge, making sure to move diagonally in midair to keep yourself going faster. this tactic is easier with a Shield Of Cthuhlu, as you can fly over the dungeon guardian and turn around with ease. This tactic requires moderate dodging skill, and can take out the Dungeon Guardian in around 5-7 minutes.
Also note that using offensive summons can provide an extra (small) bit of damage
It is effective to use bee weapons such as The Bee's Knees, Bee Gun, or Beenades since they will do sustained damage while they chase after the Dungeon Guardian.
Using the Laser Machinegun with alot of mana potions and full Nebula Armor could be useful because of how many bullets the Laser Machinegun fires.Another Strategy is using Razorpine or S.D.M.G or Megashark because of the rapid speed.
Notes
It is advised to use Titanium Armor due the fact that it grants you the ability to dodge his attack once every 20 seconds.
If the player is in an underground tunnel that is close enough to the dungeon (but not actually in the dungeon proper), the Dungeon Guardian may spawn anyway and kill them. The only way to avoid this would be to defeat Skeletron.
Multiple Dungeon Guardians may spawn if the player ventures too far into the dungeon without killing Skeletron.

The maximum number of Dungeon Guardians that can spawn at one time is 14.
It can also spawn directly on top or below the player.

The Dungeon Guardian has no death animation, sound, or corpse which indicates that it is not meant to be killed. However as 1.2 update, the dungeon guardian will drop a Bone Key (Summons a Baby Skeletron Head]) which indicates that killing it may give you great rewards.
The Dungeon Guardian is actually a re-scripted version of Skeletron's head, but is more like when Skeletron is alive during the day.
Despite its sky-high attack and defense, it is actually possible to defeat this monster, though you must take special precautions to enter the dungeon in such a way that you can escape quickly after spawning it.
When it comes, the boss summon/special attack sound appears, despite the fact that Dungeon Guardian is not a boss.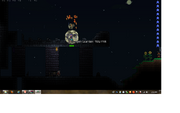 Bugs
If two people are on a server, It is possible to summon Skeletron and the Dungeon Guardian at the same time. If these two interact with each other, the Dungeon Guardian will kill Skeletron. This will render a glitch in which Skeletron is dead, however the Dungeon Guardian is still active in the dungeon, rendering it impossible to access the dungeon until you kill the Dungeon Guardian itself.
Update Info
Dungeon Guardian will now despawn if too much distance is put between player and mob.