The
Extractinator
is an
item
 added in the 1.2 update. It turns
Silt
and
Slush
 blocks into more valuable items like
Ores
,
Coins
, and
Gemstones
. The
Amber Mosquito
(spawns pet baby dinosaur) might rarely be extracted. It is one easy way to get alternative ores to the ones spawned in your world, i.e.
Iron
ore if your world spawned with
Lead
. It is the only method to obtain 
Amber
and
Amber Mosquito
in the game.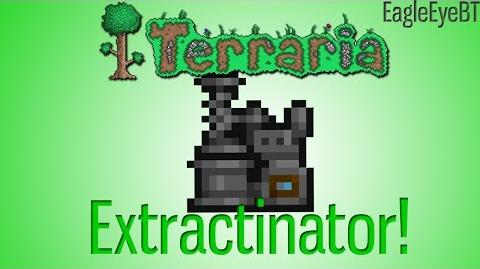 Output
The possible output result of the Extractinator does not seem to vary from the block used (Slush or Silt). Possible outputs include:
Otherwise you will receive coins instead.
Test output with 999 Silt
15 Amber
03 Diamond
03 Amethyst
04 Ruby
06 Topaz
07 Sapphire
46 Platinum Ore
45 Tungsten Ore
45 Gold Ore
59 Silver Ore
46 Lead Ore
58 Iron Ore
43 Tin Ore
34 Copper Ore

Notes
A very easy way to get a lot of items would be to make 2 new worlds, find snow biomes in them and then search for slush in each one for about 1 hour each.
Update info
Community content is available under
CC-BY-SA
unless otherwise noted.