The
Eye of Cthulhu
is one of the Pre-Hard Mode bosses in Terraria. It is usually the first boss that new players encounter, and is generally considered to be the easiest boss in the game.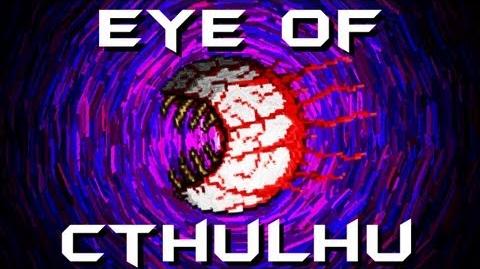 Summoning
The Eye of Cthulhu (often abbreviated as EoC) can be summoned by using a Suspicious Looking Eye at night. Alternatively, it can randomly spawn with a 33% chance each night if the following criteria are met:
At least one player in the world has at least 200+ health.
The Eye of Cthulhu has not already been defeated in the world.
If these conditions are met, the player may get the message, "You feel an evil presence watching you...", which means that the Eye will awaken soon. After a few minutes the message, "The Eye of Cthulhu has awoken!" will appear and the boss will promptly start to attack the player. However, if the player isn't ready to fight the Eye of Cthulhu, the battle can be cancelled by simply exiting and restarting the world, or alternatively restarting the game.
Strategy
The Eye of Cthulhu has two phases that it goes through as it does battle with the player. The first phase, a giant eye, has 15 attack power and 12 defense, while the second phase, a giant eye with a gaping jaw in place of its lens, has a 23 attack power; however, it has no defense. A good weapon to use during the first phase is the Starfury: It being a broadsword means you are able to fend off The Servants Of Cthulhu and use its ranged ability to fight Cthulhu. Another weapon suggestion for the first phase would be the Space Gun.(It is advised that the player has full Meteor Armor as this makes the Space Gun use 0 Mana.)
Preparations
As the Eye of Cthulhu can only summon itself if your max HP is 200 or more, you can delay its arrival by holding onto any Life Crystals that will increase your max HP to 200 or more until you feel that you're ready. That way, you'll be able to wait until you can craft Gold Armor and a Gold Bow. However, if you're not patient enough to want to grind for gold-tier equipment, then you should at least have Iron Armor or better, an Iron Broadsword or better, and, most importantly, some sort of ranged weapon, such as Shuriken, Throwing Knives, or a bow (preferably Iron or stronger) with Flaming Arrows. Also, bring along any Lesser Healing Potions in case you need to heal. If possible, get Glowing Mushrooms for Healing Potions instead.
If you are feeling like just rushing in the game, and are skillful or lucky enough, you can make a Topaz Staff, get some Fallen Stars for extra mana, and get some Iron Armor. With 160 or 200 health, and Healing Potions, you can beat the eye with just dodging skills and a nice aim.
The following consumables may also be of some help:
Weapons Analysis
Arena
Mobility in all directions is important in avoiding the Eye of Cthulhu's attacks, and chances are that you won't have access to such items as Rocket Boots or Hermes Boots. Due to the player's limited jumping skills, it is strongly advised that you build a boss arena that consists of multiple rows of wooden platforms. Finally, the arena should have some tall walls to keep other enemies from entering the arena, though a ceiling isn't required. With no ceiling, Shurikens, Throwing Knives, and Arrows that are thrown upwards would fall back into the arena, and can still damage the Eye of Cthulhu during the descent. Keep in mind that the EoC and its Servants are immune to Spikes.
Try to have an open roofed arena because a falling star can do 1000 damage to the Eye of Cthulhu!
Also remember to light the arena with torches, as the battle can only take place at nighttime.
The Battle
The Eye of Cthulhu can only be summoned during night-time and will disappear without dropping any loot if the player does not kill it before daytime. Therefore, the best time to summon this monster would be soon after nightfall. That way, you'll have pretty much all night to defeat it.
Phase 1
The Eye of Cthulhu will try to hover high above the player and shoot out a Servant of Cthulhu every couple of seconds from the iris. The Servants of Cthulhu each have an attack of 12, but only 8 HP, which is low enough for them to die from one Shuriken. While the Eye is summoning Servants, you should be aiming for the pupil, as that's where the Servants will spawn from. If any stray Servants do get too close, then a Broadsword is useful for getting them out of your hair.
After four to six Servants of Cthulhu have been launched, the Eye of Cthulhu will start to dive towards the player three times. It has an attack power of 15, which can be damaging if care is not taken. Still, players should try to avoid these dive attacks whenever possible, changing to a higher or lower level if need be. Note that it's possible to lead the Eye's dive attacks by jumping before it attacks.
Phase 2
Once the Eye of Cthulhu reaches 1400 HP or below, it'll start to spin around violently, shedding its iris "covering" (and lowering its defense to 0) to reveal a jaw full of sharp teeth, and setting the stage for phase 2 of the battle. While this happens, it is recommended to damage it as much as you can, due to lack of movement and retaliation. While the Eye no longer spawns Servants of Cthulhu during this phase, it hovers closer to the player to ensure that its dive attacks (which now do 23 damage) are more accurate. It also attacks quicker, making it more difficult to lead its attacks.
However, while the Eye of Cthulhu's speed is usually faster than the player, its acceleration and deceleration is rather poor. A clever player can exploit this by running in one direction, causing the Eye to give chase, then immediately stopping and running in the other direction, causing the Eye to drift away as it struggles to keep up with the player.
Notes
If a player uses the Suspicious Looking Eye after they have received the, "You feel an evil presence watching you..." message (provided the message was received at night), an Eye Of Cthulhu will spawn and shortly after another Eye Of Cthulhu will appear, thus leaving the player to fight two bosses at the same time.
If the Eye of Cthulhu is hit by a falling star, it will take 1000 damage, minus its current phase's defense.
A player using Hermes Boots or Lightning Boots may be able to out-run the Eye of Cthulhu.
Late in the game, the Eye of Cthulhu can be an easy source of gold coins, because it can be defeated easily (endgame players can defeat him in mere seconds) and the Demonite or Crimtane dropped from it can be sold for a lot of money. 
The Eye of Cthulhu will drop either Demonite or Crimtane ore depending on whether Corruption or Crimson spawned during world-gen.
The Eye of Cthulhu will most likely be the players' first boss to fight, unless the player is foolish enough to try and attack Skeletron on his/her first night.
If a player uses the Suspicious Looking Eye while fighting the Eye of Cthulhu on a Pre-Hardmode world, the player will Simply explode, and the Eyes of Cthulhu will Despawn. If done on a Hardmode world, the player will not explode on the use of the 2nd suspicious looking eye, and will be forced to fight 2 Eyes of Cthulhu.
Trivia
The Eye of Cthulhu is named after the fictional extraterrestrial entity, Cthulhu, created by horror author H. P. Lovecraft.
The correct pronunciation of Cthulhu has long been debated. KAH-THOO-LOO and CHA-THOO-LAH are two commonly argued pronunciations. In reality, Lovecraft intended the name to be unpronounceable, as the creature pre-dated the English language.
In patch 1.0.3, during multiplayer, if you pulled out a Suspicious Looking Eye, an Eye of Cthulhu would spawn and your Suspicious Looking Eye would not be taken away.
A boss resembling the Eye of Cthulhu, known as Monoculus, was introduced to the FPS game Team Fortress 2, around Halloween, 2011. Monoculus appeared as a large eyeball shooting smaller eyeball projectiles in a similar manner to the Eye of Cthulhu.
Bugs
Update Info
Health dropped from 3,000 HP to 2,800 HP.
Gallery
/
Community content is available under
CC-BY-SA
unless otherwise noted.