The
Familiar Outfit
is a
vanity
outfit which consists of the
Familiar Wig
,
Familiar Shirt
and
Familiar Pants
. This outfit was designed to resemble a player's character. The
Clothier
sells these vanity items for 1 

each.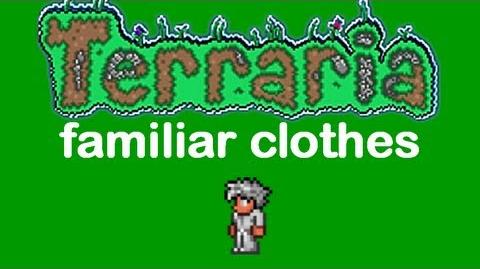 The Familiar Clothes are most often used to hide the player's armor, so they can have the armor's effect without changing the appearance of their character. The Familiar Clothes are affected by the Invisibility Potion, thus allowing the player to become completely invisible even while wearing armor. Familiar Clothes are sometimes used in multiplayer to trick the other players. However, if the player is wearing any type of wings, other players can still see their wings. This also goes for any pet that is currently active.
Notes
The Familiar Clothes are the only apparel items that cannot be placed on a Mannequin. (This is likely because the items seem to be scripted; instead of showing a set sprite, it takes its sprite from the player's original choices.)
Community content is available under
CC-BY-SA
unless otherwise noted.