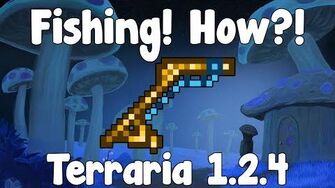 Fishing is an activity of the character to gain Materials by standing next to Water, Honey, or Lava and tossing a line into the water by left clicking while holding a Fishing Pole. Fishing is also the first mechanic to be used in Quests handed out by the Angler NPC.
Catching Fish
While the line is in the water, and the character has "Bait" in their inventory, the line will eventually get a "tug" (slight movement of the float and a sound effect) indicating that the character has caught something. Left clicking immediately will retract the line, potentially with a reward. Waiting too long to pull will retract the line with nothing.
The water being fished must be about 75 tiles. To avoid getting junk, the pool of water from which you fish needs to be at least 200 blocks in size. Quest fish can still be obtained with water sizes less than 200 and more than the minimum. 300 blocks of water are optimum. In the ocean the minimum is 1000. In honey the minimum is 50 and the maximum is 200. Nothing will be caught if the character is standing in water, whether it be the same water hole the character is fishing in or a different pool. Only the Hotline Fishing Hook can fish in lava. The Golden Fishing Rod cannot catch fish in lava. Fishing potions help at times of day or moon phases when there is a penalty to fishing skill. The best times to fish are from 4:30 AM - 6:00 AM and 6:00 PM - 7:30 PM. Both give a +20% bonus to fishing skill. Rain adds another +20%, and a full moon another +10%. Fishing from 9:00 AM - 3:00 PM incurs a -10% penalty, as does a new moon. Fishing in various biomes and with different baits will result in catching different rewards.
Left clicking any time after casting will retract the line. Performing any action other than movements will retract the line. Grappling, dashing, flying, swimming and other movements are all allowed, but only to a distance of monster spawning. Being damaged in any way does not retract the line.
The game calculates how many blocks are in the body of water you are fishing in by first checking how many blocks of liquid there are to the left and right. Then it calculates how many blocks of liquid there are underneath each of those blocks. The amount of blocks of water in total will determine how likely you will pull up a good fish.
Rewards from Fishing
Many things can be gained from fishing, including a boss summoning. Some things will be useless.
Quest Items
Quest Item Fish can be gained without first talking to the Angler. Only one Quest can be gained in a day. When the Angler gives a quest, logging out and back into that world appears to reset the day's quest. While a Quest Fish is in a character's inventory, another quest fish cannot be caught (needs confirmation). Placing a Quest Fish in a Piggy Bank or Safe seems to allow for more Quest Fish. Angler Rewards can be gained at any time and must be completed before 4:30am. All players in a Multiplayer game will have the same quests.
Fish
Most fish are used as various ingredients.
Other Things
Some rewards are not fish, but may be found while fishing. Some are useless.
Fishing Gear
Fishing Poles
To begin fishing, first acquire a fishing pole. Each pole has a different "fishing power" (percentage, like axes and pickaxes).
Fishing Bait
A character must also have bait in their inventory. Each bait has a different "bait power" that determines how often it is consumed. A higher percentage means it is consumed less often, and therefore allow more casts per piece of bait.
Potions
Some Potions are very useful and exclusive to fishing.
Main Article: Potions
Accessories/Armor
There are equippable items to help with Fishing.
Main Article: Category:Accessories
Armor
The clothing of an angler will help with Fishing. They give no armor bonuses.
Main Article: Angler Clothes
Trivia:
Some of the fish have names of creatures. (Mutant Flinxfin,Derpfish,Harpyfish,etc.)
All fish for quests have the exclusive 'Amber' tier.
Media