Flying Dragon
Projectile created
Hearty Slash


 Obtained from

 Classic

 Expert

 Master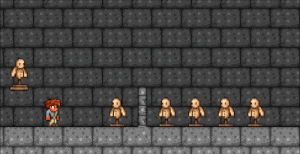 The Flying Dragon is a projectile sword which is dropped by Betsy during the Old One's Army event. It shoots crescent-shaped projectiles which travel through blocks and produce light. The projectiles can pierce through four enemies, dissipating after hitting the fifth enemy.
On the
 Desktop version,

 Console version,

 Mobile version, and

 Nintendo Switch version, the projectile will deal half the damage (90) if the player does not have a direct line of sight on it.
Its best modifier is Legendary.
Notes
[
]
Tips
[
]
Trivia
[
]
History
[
]
 Desktop version

 Console version

 Nintendo Switch version

 Mobile version