For Recipes used with Furnace, look here
The Furnace is the first crafting station to allow the player to smelt ores. It works on all prehardmode ores except Hellstone. It is the first tier of Furnace crafting stations, the second tier being the Hellforge (Furnace) and the third tier is the Adamantite Forge/Titanium Forge.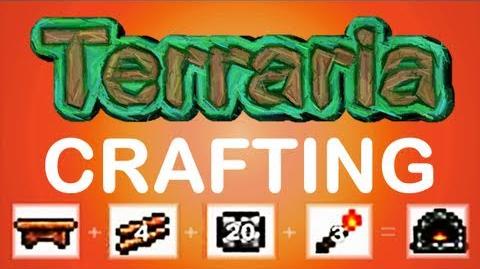 Notes
When placed, the Furnace gives off particles that provide lighting in a similar manner to that of Lava or Meteorite.
The Furnace loses none of its functionality even when completely submerged in water.
Update Info
Appearance and sprite changed
Crafting Stations
 Adamantite Forge


 Titanium Forge

 Alchemy Station
 Bookcase
 Crimson Altar


 Demon Altar

 Furnace
 Hellforge
 Iron Anvil


 Lead Anvil

 Loom
 Mythril Anvil


 Orichalcum Anvil

 Sawmill
 Tinkerer's Workshop
Chair with Table
 Work Bench
 Imbuing Station
 Ancient Manipulator
Single Purpose Crafting Stations
 Autohammer
 Blend-O-Matic
 Bone Welder
 Cooking Pot
 Flesh Cloning Vat
 Glass Kiln
 Heavy Work Bench
 Honey Dispenser
 Ice Machine
 Keg
 Lihzahrd Furnace
 Living Loom
 Meat Grinder
 Sky Mill
 Solidifier
 Steampunk Boiler
Community content is available under
CC-BY-SA
unless otherwise noted.