The
Gatligator
is a ranged weapon that is randomly available from the
Travelling Merchant
. While it's rate of fire is comparable to the
Megashark
, it is very inaccurate unless using
Chlorophyte Bullets
.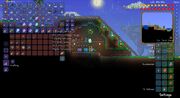 Tips
Combined with a Spider Staff, the Gatligator works greatly on monsters with Herpling AI.
Trivia
Its name is a portmanteau of the words 'gatling gun' and 'alligator', much like minigun and shark, Minishark.
The best prefix for this weapon is "Unreal".
The front end of the gun resembles an Alligator's jaw.
Update Info