Gems are valuable crafting materials found underground. There are currently 7 gem types. Gems can also be placed on any side of a block after being mined. They are found in any underground layer, except for The Underworld.
Gems are found in the following forms;
Gems can also be found in higher concentrations in rare gemstone caves, which can contain multiple gem types lining and embedded within their Stone Blocks.
On the 3DS

 version, mining gems also has a chance of yielding a Broken Heart during Valentine's Day.
Types
[
]
In descending order of rarity and value (rarest at the top):
Crafting
[
]
Used in
[
]
Gemstone cave
[
]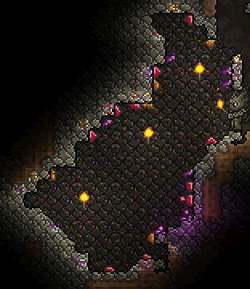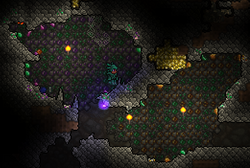 A gemstone cave is a rare, irregularly shaped room often found in the cavern layer. It contains a high concentration of placed gems on multiple stone surfaces, as well as a few gems embedded in stone. Most gemstone caves contain one or two types of gemstone, but can rarely contain three or more types. The type of gem found in such caves is easily identifiable by the Gem Wall the cave utilizes, but this wall cannot be collected to obtain any items.
Notes
[
]
Trivia
[
]
Gallery
[
]
History
[
]
 Desktop version
Desktop 1.3.1:

Inventory, placed, rock and stone sprites updated.
Large Amber can now be crafted.
Gem Locks can now be crafted.
Footnotes
[
]
↑ Amber Stone Blocks never naturally generate, as Amber is exclusively acquired by using Silt, Slush, or Desert Fossil on an Extractinator,

or are found as gems in the Underground Desert.

The player can also craft an Amber Stone Block and place it.