Template:Infobox-MonsterThe Giant Worm is an enemy usually found underground, or more rarely above ground. It appears more frequently when in or near The Corruption. It is capable of quickly moving through walls (So you are not safe in a home with a background), and emits a characteristic shuffling sound that grows louder and more rapid as it approaches the player.
The Giant Worm can be difficult for newer players to kill because of its speed, and its tenedency to "hit and run" behind walls where the player can not quickly follow. Worms can also follow the player above ground. Although it is in the background, the player can hit it with any weapon as it passes by.
It is best to aim for the head when possible, as the head has less health than the body, and killing the head will kill the entire worm. Even the body has only 15 health though, meaning that most mid- to high-level weapons and pickaxes can kill it in a single hit. This makes it mostly an annoyance to stronger players. Due to it's suddently appearings, it usually scares players if they are in small caves.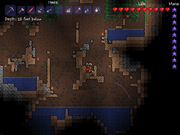 Notes
The Giant Worm, like all other burrowing creatures, can only "jump" a certain distance over the tile they emerge from.
As with all burrowing creatures, the Giant Worm is immune to lava damage.
The Giant Worm sprite is extremely similar to the sprite of the Leech.
Update Info
Community content is available under
CC-BY-SA
unless otherwise noted.