The
Goblin Archer
is a monster added in the 1.1 patch. It spawns as part of the
Goblin Army
. It fires wooden arrows at the player when line-of-sight is established. The arrows that Goblin Archers shoot cannot be deflected with a weapon while they are being fired; they must be evaded, or you will be hit. Goblin Archers don't drop arrows or bows. Like the rest of the Goblin Army, they drop Harpoons, spiky balls, and coins.
Update Info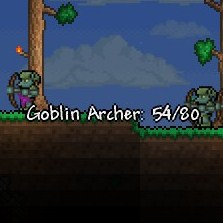 Community content is available under
CC-BY-SA
unless otherwise noted.