The
Gold Helmet
is a piece of the
Gold Armor
set, worn in the head slot. It provides 4
Defense
and can be crafted with 25
Gold Bars
at an
Iron Anvil
.
The Gold Helmet is the fourth tier of helmets, a tier above the Silver Helmet, and a tier below the Meteor Helmet. If equipped with Gold Greaves and Gold Chainmail, an additional 3 Defense will be added as a set bonus. An Ancient Gold Helmet can be used as a substitute for a Gold Helmet.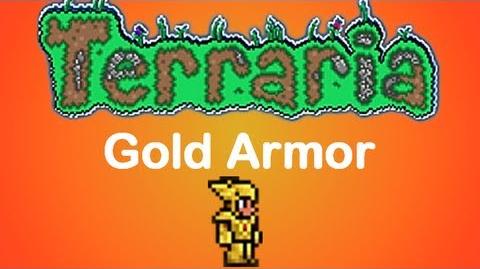 Trivia
It slightly resembles Loki's helmet from Marvel's Thor and The Avengers.
The Gold Helmet used to be combined with 30 Hellstone Bars to craft the Molten Helmet, though as of the 1.1 update, this is no longer true.
Gold armor appears to have a gemstone set in it.However, there is no gemstone needed to craft it.This appears with other chainmail too, such as silver, tungsten, etc.
Update Info