The Gold Watch is the highest tier Watch along with the Platinum Watch. When equipped in an Accessory slot, a clock will appear in the upper-left corner of the screen, revealing the in-game time accurate to the last minute. One minute of Terraria game time lasts one second of real-world time. Like other accessories it can be created with modifiers. Like other watches crafting the Gold Watch requires a Table and Chair.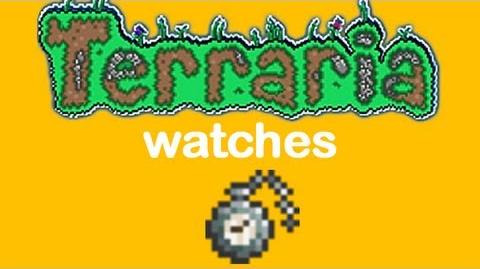 Notes
When accessories are worn that cause the time, position and/or depth to be displayed simultaneously, the position is displayed at the top, with the depth in the middle and the time at the bottom.
According to the watches, Daytime begins at exactly 4:30 AM and Nighttime begins at exactly 7:30 PM.
A chair and work bench won't work when crafting watches (must be table instead of a work bench)
It is obtainable but not functional on the Mobile Version
The exact time cycle of the day has four parts:
Dawn - 4:30 AM
Noon - 12:00 PM
Dusk - 7:30 PM
Midnight - 12:00 AM
Skeletron (and every other boss requiring nighttime) can be summoned between Dusk and just before Dawn starts (7:30 - 4:29), although it would be a waste to summon them right before Dawn starts as most either flee or kill you.
Update Info
Gained the ability to be crafted into a GPS.
Gained the ability to be crafted into a 1 Second Timer.
Community content is available under
CC-BY-SA
unless otherwise noted.