Golf is an in-game activity where players hit Golf Balls into Golf Cups using Golf Clubs. Golf supplies can be purchased from the Golfer NPC. Golf courses are not naturally-occurring and must be built. Due to the large size of golf courses and the optional nature of golf, it is likely that many players will experience golf in the form of custom maps.
Gameplay
[
]
Setting up
[
]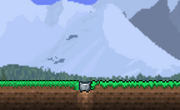 First of all, the player needs to obtain the items to build their course. They will need the basic components: a Golf Ball of any color, any Golf Club, a Golf Cup, and a Golf Tee to place the ball.
Playing
[
]
To play golf, the player should either place a Golf Tee and then put a ball on it by pressing ⚷ Open / Activate on the tee, or just drop the ball on the ground. Then, they should use one of the four types of clubs to hit it, those being the Driver, the Iron, the Wedge, and the Putter. The goal is to get the ball into the hole in as few hits or "strokes" as possible. Using the Golf Whistle will return the ball to its previous position with a one-stroke penalty.
Golf score
[
]
Separate from the regular golf scoring system of stroke count, golf score is a statistic used to track a character's overall experience with playing golf. The golf score is calculated based on the number of strokes used and the total of the Euclidean distances of each shot. That is, by drawing a straight line between each location a shot is taken, and where the ball subsequently lands, the total distance will be the total length of all those lines. The calculated score is then rounded down before being added to the character's accumulated score. The exact score before rounding is calculated using the following formula:
score = (total distance / 16) / (strokes + 2)
A player can accumulate a maximum total score of 1,000,000,000. The Golfer's shop inventory will expand as the player increases their total score, but will not expand after 2000.
Notes
[
]
Tips
[
]
Trivia
[
]
See also
[
]
History
[
]
 Desktop version

 Console version

 Mobile version