The Green Slime is the weakest slime variant, and is generally considered to be the most basic enemy in the game, as well as the first enemy the player will encounter should he/she start a new Terraria world. Green Slimes can usually be encountered throughout most of the Surface (specifically in forest areas), and is also the most common slime. Like all slimes, it drops Gel and coins upon death. They can be rather distracting when a player has just started out to build something, but shouldn't pose a big threat a bit later on.
Attack Pattern
Green Slimes attack the player by jumping at them, dealing contact damage. They can be seen bobbing up and down in increasing speeds before they jump, which can serve as an early warning to the player.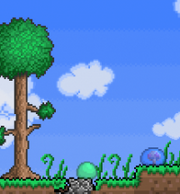 Notes
Green Slimes are often neutral during the day unless provoked. At night, however, they become hostile.
In the console and mobile versions, a Green Slime is the first enemy encountered by the player during the tutorial.
During the 2013 Halloween Event, Green Slimes could take on much more variations such as wearing a bunny costume.
The Green Slime is one of the very few monsters to have no defense (excluding critters).
Naturally spawned basic slimes have a 5% (1/20 chance) of carrying a bonus item which they drop upon death, the item is visible while inside of the slime because they are transparent.
The Green Slime likes to attack with sudden jumps at the player that knocks them back. It can be countered with a sword swinging continuously, or a weapon with high knockback.
Update Info
Patched bug where the slime would sink into the ground.
Removed splash sound, given ability to float in water.
Damage reduced from 8 to 6.
Defense reduced from 2 to 0.
Health reduced from 15 to 14.