Deerclops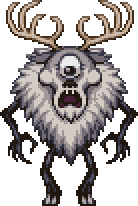 Classic

 Expert

 Master
Drops
Item (Quantity)Rate

33%

33%

33%

Only one of the following 4 items can drop at a time

25%

25%

25%

25%

14.29%

10%

Treasure Bag

(Deerclops)

100%

14.29%

33%

33%

33%

Only one of the following 4 items can drop at a time

25%

25%

25%

25%

100%
The Deerclops is a Pre-Hardmode boss. It does not need to be killed to progress the game, but it drops several Don't Starve-themed items, including the useful pet item Eye Bone.
Spawning
[
]
The Deerclops can be spawned using the

Deer Thing, crafted from 3

Flinx Fur,5

Demonite Ore or

Crimtane Ore, and a

Lens.
This must be done in a Snow biome.
The Fight
[
]
The Deerclops has four attacks:
If it is close to the player, the Deerclops will smash the ground, summoning a wave of ice spikes that quickly travels torwards them. Every third consecutive wave does not go as far, but spreads in both directions.
If it is not close enough to its target to use its ice spikes attack, the Deerclops will 'scoop' and then throw numerous chunks of ice debris into the air that fall back down. These ice chunks can pass through blocks.
Deerclops occasionally stand in place and roar, inflicting the Slow Debuff on all players for 12 seconds / 24 seconds / 30 seconds.
In Expert Mode, shadow hands will be periodically summoned that either move forwards slowly, move forwards quickly and curve, or spin in place. Shadow hands are summoned more frequently as the Deerclops' life gets lower.
If the player is above the Deerclops for too long, it will summon five shadow hands around the player.
The Deerclops can pass through solid blocks, but will quickly rise to the top of said blocks unless the player is below it.
If the player is more than 30 tiles away from it, the Deerclops will turn a dark shade purple and become immune to damage.
If the Deerclops is significantly offscreen, it will wander back and forth without directly seeking the player.
General Strategies
[
]
General Tips
[
]
This content is transcluded from Guide:Practical tips § Combat.
For nocturnal bosses, starting the battle just after the sun sets (7:30

 

PM) will provide the maximum amount of time to defeat the boss. In Hardmode, the Moon Charm and/or Moon Stone and their upgrades are also useful at night.
Boss battles can be won or lost before the battle ever starts. Choose your equipment and have it ready; find and/or make potions and placed buffs;

use the highest-tier food you have available; set up an arena appropriate to the boss; learn the strategies for the boss you're facing.
Prepare your Boss-fighting arena with adequate lighting, Campfires and Heart Lanterns for health regeneration, and Stars in Bottles for mana regeneration if you use magic. Bast Statues

will provide a significant defensive boost. Garden Gnomes

and (if underground) proper torch placement

will reduce damage taken and increase damage dealt due to the luck. Note Torch God's Favor helps with this. Honey pools can also be used for extra health regeneration.

Sunflowers provide the Happy! buff to players within a 50-tile radius, which grants a +10% movement speed bonus and 17% reduction in enemy spawn rate.
Always carry around a stack of the highest-tier healing potion available, as relying only on natural Health Regeneration is not a good idea. Depending on the game stage, this can include items such as Mushrooms or Honeyfins. As of 1.4.0.1, Restoration Potions

are healing potions with a shorter cooldown.

Likewise carry mana potions, if you use Magic.
The Strange Brew

is also an option, but its weak healing effect *will* trigger the Potion Sickness cooldown as well as Mana Sickness.

Before 1.4.0.1, Restoration potions can save a slot, but will likewise trigger both cooldowns.

It is suggested to build houses for the Dryad and the Nurse NPCs in your arena. The former casts the Dryad's Blessing

buff, which increases your defense and provides you with a thorns-like effect, while the latter can heal and remove debuffs instantly, at the cost of some coins.
Bosses are displayed on the Minimap: Follow the boss's icon to track it when you're struggling to find it. You can identify the boss icons by checking their respective wiki pages.
Once you have freed the Mechanic in the Dungeon, you can use Wire to enhance your arena with Traps and helpful Heart and Star Statues. The former helps to damage the enemies, though be careful to set them up correctly in order not to hurt yourself during the battle. The latter will spawn heart and star pickups, respectively. Connect these devices to timers.
It may be useful to summon and kill the Eye of Cthulhu or King Slime before summoning any harder boss in order to spawn an extra one-use pool of Hearts. Note that this will prevent any Heart Statues from spawning new Hearts.
Remember to use the Sharpening Station

, Ammo Box

, Crystal Ball, Bewitching Table

, and Slice of Cake

before you go to explore or battle bosses/invasions. These will give boosts that are useful to take, with the first four being class-specific. They give Sharpened

, Ammo Box

, Clairvoyance, Bewitched

, and Sugar Rush

, respectively.
Terrain Preparation
[
]
It is recommended to clear a large flat area in the Snow Biome.
Platforms are highly recommended to avoid the majority of the Deerclops' attacks.
Gearing Up
[
]
It's recommended to have at least 300 Health before you attempt to fight Deerclops.
Armor
[
]
Weapons
[
]
For Melee users:
For Ranged users:
Bow users should use a Demon BowTendon Bow or Molten Fury if they've got it.
Blood Rain Bow

is an effective choice but requires a big arena to be used properly. It works best with Unholy arrows or Hellfire arrows if obtained.
A Musket or The Undertaker are decent and the Minishark can also be used. The Boomstick is also a very powerful choice.  Desktop,  Console, and  Mobile users that have already beaten Skeletron can get the Quad-Barrel Shotgun

. However, it is very inaccurate, so staying close to the boss is mandatory if using this.

Note that Minishark is much less effective in Expert mode, especially in the latter stages of the battle.

Silver Bullets/ Tungsten Bullets

are the preferred bullets to use with the guns mentioned above. Meteor Shots work better with the former two, since they don't have problems with the invincibility frames caused by piercing attacks.
For Magic users:
For Summon users:
Accessories
[
]
Anything that increases your vertical mobility is a godsend. The Cloud in a Bottle is good, but better choices would be the Blizzard in a Bottle, the Fart in a Jar, or the Sandstorm in a Bottle. Having a Shiny Red Balloon will also greatly help as it will increase your jump height, it will be better if The Shiny Red Balloon is combined with any of the Cloud in a Bottle type accessory. The Bundle of Balloons would be a great addition. You can also use the Rocket Boots for flight, and the Spectre Boots for flight and speed.
The Shark Tooth Necklace

is a very good increase to DPS, especially on Expert Mode.
If you are going for a melee approach, the Magma Stone is a slight increase to your DPS.
Bring a Hand Warmer to the battle as the Chilled and Frozen debuffs can easliy kill the player if inflicted.
Anything that reduces damage is very helpful, including Expert Mode-exclusive Worm Scarf

, and defensive reforges on accessories.
Potions
[
]
Specific Strategies
[
]
Explosive Bunny strategy
[
]
Once able to fight Deerclops, first fill a small box with approximately 50 to 60

Explosive Bunnies, then summon the boss. Upon walking into the box, Deerclops will take a large amount of damage, potentially killing it.