The Frost Moon is one of the three Moon events, the others being the Pumpkin Moon and the Blood Moon. The event is significantly harder than its counterpart and yields less money; however, it drops more powerful weapons.
Due to the amount of strong enemies and bosses, it can be hard to survive the event at first.
Event
[
]
Like the Pumpkin Moon, the event consists of multiple waves, with a final wave that will last until the night is over. While the Pumpkin Moon consists of 15 waves, the Frost Moon consists of 20. In order to progress through waves, the player must kill enemies, with stronger foes giving more points than weaker ones.
On the first Waves, the player will only encounter basic enemies, such as the

Zombie Elves or
Elf Archers. As the event goes on, stronger enemies will spawn, including unique bosses.
On Wave 4, the first Everscream will appear, a miniboss enemy who behaves similarly to the Mourning Wood. Despite the high damage and the frequency of its attacks, it is a not a difficult enemy to deal with due to its incredibly poor vertical reach and relatively low health for a miniboss.
On Wave 7, the powerful Santa-NK1 miniboss will start spawning. It will shoot bullets at a high rate with its Chain Gun, a barrage of Rockets, and Presents that will parachute from the sky. It also leaves Spiky Balls on the ground, which deal massive contact damage, being capable of killing a player in one hit on Master Mode. When it gets to half health, it will become more aggressive. The high damage and rate of fire of its Chain Gun make this miniboss extremely dangerous and a very high priority in the event.
On Wave 11, the Ice Queens will start spawning. She shoots Frost Waves, which deal moderate damage and have a high chance to inflict the
Chilled and

Frozen debuffs, which will greatly limit or stop mobility. She will also perform an "Ice Twirl" attack, where she will start spinning and shoot Frost Shards in all directions. While this attack can be hard to dodge, she also becomes extremely vulnerable to attacks since she will completely stop moving. A well prepared player will not have many issues with her, as a Warmth potion will make all her attacks deal significantly less damage, and the effects of the Chilled debuff can be negated with a Mount.
Throughout the event, Present Mimics will occasionally spawn in place of other enemies. This enemy, while not hard at all to kill, drops Hearts as if it were a miniboss, making it a valuable target.
Like with the Pumpkin Moon, focusing on damage is more important than defense, as the goal is to progress through the event as fast as possible in order to obtain the best loot.
Everscream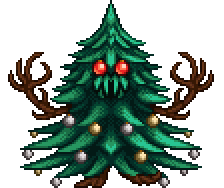 Classic

 Expert

 Master
Drops
Item (Quantity)Rate
One of the following 4 items may be dropped [2]
Santa-NK1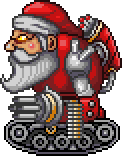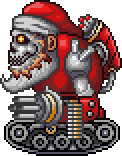 Classic

 Expert

 Master
Ice Queen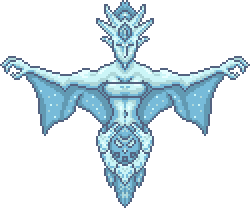 Classic

 Expert

 Master
General Strategies
[
]
General Tips
[
]
This content is transcluded from Guide:Practical tips § Combat.
For nocturnal bosses, starting the battle just after the sun sets (7:30

 

PM) will provide the maximum amount of time to defeat the boss. In Hardmode, the Moon Charm and/or Moon Stone and their upgrades are also useful at night.
Boss battles can be won or lost before the battle ever starts. Choose your equipment and have it ready; find and/or make potions and placed buffs;

use the highest-tier food you have available; set up an arena appropriate to the boss; learn the strategies for the boss you're facing.
Prepare your Boss-fighting arena with adequate lighting, Campfires and Heart Lanterns for health regeneration, and Stars in Bottles for mana regeneration if you use magic. Bast Statues

will provide a significant defensive boost. Garden Gnomes

and (if underground) proper torch placement

will reduce damage taken and increase damage dealt due to the luck. Note Torch God's Favor helps with this. Honey pools can also be used for extra health regeneration.

Sunflowers provide the Happy! buff to players within a 50-tile radius, which grants a +10% movement speed bonus and 17% reduction in enemy spawn rate.
Always carry around a stack of the highest-tier healing potion available, as relying only on natural Health Regeneration is not a good idea. Depending on the game stage, this can include items such as Mushrooms or Honeyfins. On the  Desktop,  Console,  Mobile, and  Switch versions, Restoration Potions are healing potions with a shorter cooldown.

Likewise carry mana potions, if you use Magic.
The Strange Brew

is also an option, but its weak healing effect will trigger the Potion Sickness cooldown as well as Mana Sickness. On the  Old-gen console version, Nintendo  version, and  tModLoader version, Restoration Potions can save a slot, but will likewise trigger both cooldowns.

It is suggested to build houses for the Dryad and the Nurse NPCs in your arena. The former casts the Dryad's Blessing

buff, which increases your defense and provides you with a thorns-like effect, while the latter can heal and remove debuffs instantly, at the cost of some coins.
Bosses are displayed on the Minimap: Follow the boss's icon to track it when you're struggling to find it. You can identify the boss icons by checking their respective wiki pages.
Once you have freed the Mechanic in the Dungeon, you can use Wire to enhance your arena with Traps and helpful Heart and Star Statues. The former helps to damage the enemies, though be careful to set them up correctly in order not to hurt yourself during the battle. The latter will spawn heart and star pickups, respectively. Connect these devices to timers.
It may be useful to summon and kill the Eye of Cthulhu or King Slime before summoning any harder boss in order to spawn an extra one-use pool of Hearts. Note that this will prevent any Heart Statues from spawning new Hearts.
Remember to use the Sharpening Station

, Ammo Box

, Crystal Ball, Bewitching Table

, and Slice of Cake

before you go to explore or battle bosses/invasions. These will give boosts that are useful to take, with the first four being class-specific. They give Sharpened

, Ammo Box

, Clairvoyance, Bewitched

, and Sugar Rush

, respectively.
Terrain Preparation
[
]
This content is transcluded from Guide:Arena.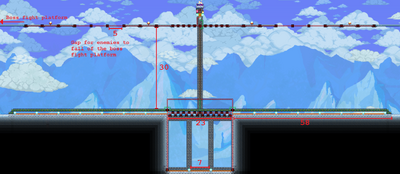 The Pumpkin and Frost Moons are much easier to handle with the proper arena.
A flat surface about 168 blocks wide (See NPC spawning) will focus all spawns on the arena. Above it there should be a long platform of the same width, high above the ground in order to keep grounded enemies out of reach.
Since the player will mostly focus on the Bosses on the later waves, Lava pit and Traps may be helpful to take out the weaker enemies more easily. However, on higher difficulties the Traps' low damage is practically useless against the higher-health enemies, making them almost a liability due to the invincibility frames they provide and the risk of being hit by them and taking massive damage in the process.
It's also a good idea to make a room with a

Bed near the Arena, so in case of death you can quickly get back to it.
Gearing up
[
]
The event can be summoned at any time post-Plantera, however due to its difficulty it is usually done after Duke Fishron and the Pumpkin Moon, but before the Empress of Light and the Celestial Events.
Armor
[
]
Weapons
[
]
For Melee users
Influx Waver

and Seedler

are very reliable weapons for both single targets and crowds. The Terra Blade can be used as well, but it is weaker on older platforms (95

/ 88

/ 80

).
The Keybrand has extreme DPS against enemies below 40% health, but it requires a Cross Necklace to be used efficiently. The Psycho Knife

is stronger against enemies higher on health.
Starlight

is a safer and stronger alternative, however it requires the defeat of a harder boss.
The Flairon can be strong against the Ice Queens, but it is very underperforming against grounded enemies and crowds.
Vampire Knives can be used to quickly heal in critical situations, but has low DPS.
A Flask of Ichor significantly boosts damage output.
For Ranged users
Tsunami with Holy Arrows is an extremely powerful weapon, being one of if not the best when it comes to reaching the final wave without endgame equipment.
The Electrosphere Launcher

is very effective for crowd control and single targets alike. The Stynger is a weaker alternative.
The Xenopopper

paired with Crystal Bullets is the strongest gun available.
For Magic users
The Razorblade Typhoon can hit every enemy currently alive, althought it's single target DPS against bosses is rather lacking.
The Bubble Gun, Laser Machinegun

or Bat Scepter, Heat Ray and Spectre Staff all help against the enemies with higher health.
The Magnet Sphere, Rainbow Gun, Nimbus Rod and Golden Shower are very good secondary weapons.
For Summoners
Accessories
[
]
Wings, particularly those with hovering abilities such as Betsy's or the Hoverboard are helpful. However it's much better to use Mounts instead, as they are unaffected by the Chilled debuff and save accessory slots that would be used for mobility items.
Damage increasing accessories such as any Emblem, the Celestial Shell

, Celestial Stone, Papyrus Scarab, the Sniper Scope, Magic Quiver and its upgrades, among others, are extremely important to progress in the events.
Frozen Shield

is a very good aid for survivability.
The Celestial Cuffs

will quickly regenerate mana when hit.
Accessories should be modified to Lucky or Menacing for the event.
Mounts
[
]
Mounts allow you to use another accessory instead of Wings and other support mobility items and are unaffected by the Chilled debuff, making them a much preferred movement option.
Potions
[
]
↑ Information taken from the  Desktop 1.4.0.5 source code, method AI() in Terraria.NPC.cs (under <nowiki>aiStyle == 61</nowiki>) There may be inaccuracies, as the current  Desktop version is 1.4.3.6.
↑ 2.0 2.1 2.2 2.3 2.4 2.5 See Frost Moon for more details on the loot drop rates. Information taken from the  Desktop 1.4.0.5 source code, method RegisterBoss_FrostMoon() in Terraria.GameContent.ItemDropRules.ItemDropDatabase.cs and class FrostMoonDropGatingChance in Terraria.GameContent.ItemDropRules.Conditions.cs There may be inaccuracies, as the current  Desktop version is 1.4.3.6.
↑ 3.0 3.1 Trophies have a different drop rate than other loot from Frost Moon minibosses; see Frost Moon for more detail on these loot drop rates. Information taken from the  Desktop 1.4.0.5 source code, method RegisterBoss_FrostMoon() in Terraria.GameContent.ItemDropRules.ItemDropDatabase.cs and class FrostMoonDropGateForTrophies in Terraria.GameContent.ItemDropRules.Conditions.cs There may be inaccuracies, as the current  Desktop version is 1.4.3.6.
↑ Information taken from the  Desktop 1.4.0.5 source code, method AI() in Terraria.NPC.cs (under <nowiki>aiStyle == 57</nowiki>) There may be inaccuracies, as the current  Desktop version is 1.4.3.6.