Guide:Hardcore
This is a Guide page.
This means the page will walk you through a specific task, strategy, or enemy/boss fight.
Status: Under revision (This Guide is currently being revised or has been revised partially. It hasn't met all quality standards yet.)
Welcome to Hardcore! With only one life, your trusty tools, and the environment around you, you are ready to embark on a dangerous journey. Only two things are different, a special item, and you only have one life. With only those changes, you are now playing a much harder game. With only one life, you have to be more careful when it comes to traps, bosses, events, and just plain exploring. Even the simplest oversight can end your character permanently. But do not disparage – There are ways to tackle this! At the start you can play it 100% safe, but if you're playing to win then risk-taking is inevitably a part of the game. This guide has many tips and tricks for surviving Terraria as a squishy mortal.
On the lower difficulties your character deaths don't mean all that much. When you die in Hardcore mode you'll find yourself remembering each death more. It's not just a hit to your wallet. You don't have the option of getting your stuff back. With a Hardcore death, you can lose hours of precious gametime, with the most hopeful outcome being a head start on your next character and a lesson learned.
This section lists guidelines that can increase your survivability and enjoyment of Hardcore mode. Consider each one for adoption.
Be prepared. All the rules that follow can be summed up by the Scout Motto. The original phrases it perfectly: Be prepared in mind by having thought out beforehand any accident or situation that might occur, so that you know the right thing to do at the right moment, and are willing to do it. Be prepared in body by making yourself strong and active and able to do the right thing at the right moment, and do it.
Stay vigilant. In other words, don't let your guard down. Nine times out of ten, you'll get killed by the danger you forgot about.
Keep your eyes peeled. Light up every direction that dangers might come from, so you can see them coming.
Know your exits. Make it so you can move through the environment with ease, no matter where you go. At some point or another you'll need to make a quick escapes.
Keep one hand on your Recall Potions. These are your Get Out of Jail Free cards. Keep them slotted onto the easiest-to-reach part of your Hotbar. Use these in clutch situations, especially if you can't take the heat.

If you realize after the fact that you could have taken the heat, consider it a second chance at the situation.
Magic Mirrors take 1.5 seconds to teleport, but Recall Potions take 0.5 seconds.

Place blocks for safety. It's good practice to modify your world as much as you need to to enhance your survivability. Build surface bridges, and make slopes easy to run up and down safely. Block off scary tunnels so monsters can't get through. You can even box monsters up if you don't want to deal with them.

Blocks don't work against the few monsters that can pass through them, like Giant Worms and Devourers. If you notice these enemies approaching and you're unprepared, your best option may be to flee entirely.
Build a panic box when you need a moment to think: Move against a wall and surround yourself in blocks, protecting your squishy body from monster attacks. Yoyos work great with this tactic, because all you need is a single hole in your box to kill the monsters.

Take risks deliberately. Think them through, don't miss anything, and execute them flawlessly. Taking well thought-out risks can yield high rewards, both in material wealth and narrative value. That being said, you'll be hating yourself when you die to a boss you weren't ready for or an element you didn't account for.
Improvise. Adapt. Overcome. You'll inevitably encounter problems, and you'll have to make good strategic decisions on the fly. This takes training and practice, and you won't get there by avoiding ugly situations.
If you distress at how hard this difficulty is, understand this:
You are most likely dying to the same things you'd ordinarily die to.
There are aspects of the game you need to work on.
This is a great challenge for long-term improvement. The way to get through Hardcore survival is to identify your blind spots during ordinary gameplay and work to cover them. While harsh, unenjoyable penalties for death will help you learn faster, you shouldn't be dissuaded from playing the game. Playing Mediumcore characters allows you to tackle obstacles repeatedly until you succeed.
If you can't tell where you need improvement, start a log of your character deaths, both in and out of Hardcore. Just write down the situations you die to, and add what you could have done to avoid them. This puts the areas you need to improve on all in one place.
Play with friends! There is nothing better than several hands working together and keeping each other company, and doing so can turn a personal experience into quality time with another human.

Another particular upshot of playing with other people is that you have a chance at preserving a character's inventory when someone dies. Uncontained items are lost when the world closes. If you wish to stick to the nature of Hardcore Mode, then surviving players can use the dead's gear for their own survival while being haunted by their ghosts. If you like a more casual Hardcore experience, let your buddy recover your stuff before the world closes, then re-enter the world with a new character.

Do your early game errands at daytime. Do not go outside during the first few nights, and never during a Blood Moon.
If a surface zombie happens to cut off your path, use platforms to scramble up a tree, then jump over the zombie so it can't hit you.
Aim to obtain armor, Mana Crystals, Life Crystals, and Shadow Orb / Crimson Heart loot as soon as possible. They provide good survival boosts, but know that overindulging on health boosts or evil loot attracts the attention of deadly bosses.

Don't increase to 200 hp until you are prepared to fight the Eye of Cthulhu.
Don't break a third Orb/Heart until you're ready to fight the Eater of Worlds/Brain of Cthulhu.
If you get the evil presence message and you're not ready, know that restarting the world prevents the Eye of Cthulhu from spawning and will even end the fight. If fighting the boss feels like a nightmare, ending the world is like waking up from it.

Fish in the deepest lake you can find, you may have to artificially channel water into one spot to avoid getting junk.
Brew your own potions so you don't have to rely on Pots and Chests.

For more, see the Potions article.

Place passive buff items. These increase your survival while you're in their areas of effect:
Use your NPCs! They provide essential goods and services that you can use like Grenades, equipment, help with crafting, and healing.
Gather Wood. It's the safest and most time efficient resource for you to gather, and it's essential in the early game.
Build a shelter. A basic noob box is all you need for the first night, and a modestly sized one takes 150–200 Wood to make.
Craft basic gear. For the basic gear outlined below you need 116 Wood, 20 Stone Blocks, 20 Cobweb, and as much Gel, stone, and extra wood as you're comfortable gathering.
At night, find a way to take pot shots at monsters from the safety of your shelter. You can collect their coins when the sun comes up.
As another night task, start furnishing your shelter.
When it is day again, find a cave to explore. You should have torches from killing Slimes the previous day. Explore these caves for minerals and chests.
Scout left or right until you find a Desert. Bring enough Sand Blocks home to start brewing potions, and chop down Cactus (75) to craft Cactus armor.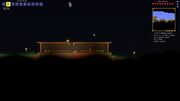 Your first goal is to build a shelter. It doesn't have to be over your world spawn, but the spawn will be the spot you recall to, until you gather enough Cobwebs for a Bed.
As a rule, zombies shouldn't be allowed to chew on the doors at night. During a Blood Moon, mobs can open doors and kill you very quickly. To keep the enemies out, you have a few option. You can keep furniture stacked against the doors (which keeps them from swinging inwards), you can raise your doors off the ground, or you can forego doors entirely in favor of something like a roof hatch. If you go with any roof entrance, you can build 1 block–wide stubs on the edge of your roof to prevent Zombies and other fighters from jumping onto your house. There are also tricks you can do to create 1-way passages. If you put a vertical line of platforms up against a wall and hammer them into stairs, you can make a 1-way door that you can even fire projectiles through.
If you design the shelter so you can safely take pot-shots at zombies and demon eyes at night, you can start earning coins to buy essential supplies from the Merchant later.
Another good way to stay alive and rack up resources is to build a death pit or dry moat, by digging a hole deep enough to prevent monsters from jumping out, but not deep enough to keep them below the ground entirely.
Erect shelters any time you need one. Having several in your world lets you always have a place to restore health, manage your inventory and store your items.
You probably spawned in the relative safety of a forest, but in all four directions things spawn with the purpose of ending your life. Get everything you can out of your starting zone. Once you've established a personal safety shelter, you'll need to kit yourself out so you can carry your safety around with you.
Your basic kit to start off might look like this:
Result
Ingredients
Crafting station
Work Bench
By Hand
Furnace
Work Bench
Wood Breastplate
Wood Greaves
Wood Helmet
Wooden Bow
Wooden Sword
Wooden Yoyo
Some readers are going "Pff – That's kid stuff." That tallies up to 116

Wood, 20

Stone Blocks, 20

Cobweb, and at 1

Gel. While Slimes are pretty easy to kill in a Classic Mode world, you might find it's better to mostly avoid them on your first few days in any Expert or Master Mode world. That being said, you do need extra gel for torches and healing potions, so get as much as you're comfortable gathering.
These are your initial consumable items that you'll want to craft "enough" of:
Result
Ingredients
Crafting station
Campfire (  )
By Hand
Campfire ( )
Torch

(3)

Lesser Healing Potion

(2)

Placed Bottle
or
Alchemy Table
Wooden Arrow

(25)

(  )
Work Bench
Wooden Arrow

(5)

( )
Start off exploring carefully and systematically. Consider favoring slow, methodical expansion over fast scouting trips. Your first exploration goals on the Surface are: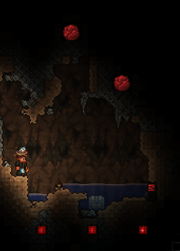 Watch out for traps. Drinking a Dangersense Potion or holding a trap part makes them stand out in dark rooms. If you can't do that, just keep your eyes peeled for pressure plates.
Remember about traps. They'll end you the moment you forget about them.
Be careful with traps. You never know when conflict will interrupt what you're doing, so disarm traps as soon as you find them.
Keep your exit route secure.

e.g., There are certain block gaps you can fit through one way but not the other. Be sure to mine these out so you can flee through them later.

Build walls for your hellevator to keep enemies from using it.
Place Campfires to provide extra healing.
Block up all the passages you need to. Compartmentalizing your caves with blocks and doors isn't a bad idea, unless it makes it difficult for you to get around.
At the start of the game, cut down trees and craft as many wooden swords as it takes to get a great modifier. It will give you a massive boost at the start.
Cut down cobwebs and do the same for White String. Whether you'll use a yoyo or not, a Warding White String significantly increases your defense if you wear it anyway.
List of early milestone goals
[
edit
|
edit source
]
List of late milestone goals
[
edit
|
edit source
]