The Queen Slime is an optional early Hardmode boss fought in the Hallow. She is the hardmode version of King Slime.
Queen Slime
First Form
Hardmode exclusive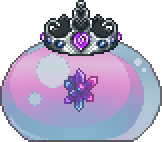 Classic

 Expert

 Master
Sounds
| | |
| --- | --- |
| Hurt | |
| Idle | |
| Charge Gel | |
| Regal Gel | |
Queen Slime
Second Form
Hardmode exclusive

 Classic

 Expert

 Master
Spawn Conditions
[
]
Queen Slime can be summoned by using a
Gelatin Crystal in The Hallow, which is found in the Underground Hallow in the same places that

Crystal Shards spawn.
The Fight
[
]
In her first phase, Queen Slime jumps around in a similar fashion to King Slime, though much faster. She periodically summons Crystal Slimes, Heavenly Slimes, or Bouncy Slimes. Crystal Slimes will shoot several crystals upwards, Heavenly Slimes will fly towards the player and Bouncy Slimes will fire bouncing shots towards the player. After a few jumps, she does one of two things, chosen at random:
Will stay in one place for a few seconds, before jumping very quickly towards the player and attempt to stomp them, dealing high damage.
Will stay in one place for a few seconds, before firing 6 Regal Gel that bounce twice before breaking. Sometimes, she will perform this attack multiple times in a row.
Killing the smaller slimes should be a priority during this phase, as they can quickly overwhelm the player.

When at 50% health, Queen Slime will grow wings and begin to fly like a Slimer. Her AI also changes:
She will occasionally shoot  Regal Gel in 10 directions.
She will occasionally attempt to fly above and drop down onto the player.
Expert Mode
[
]
General Strategies
[
]
This content is transcluded from Guide:Practical tips § Combat.
For nocturnal bosses, starting the battle just after the sun sets (7:30

 

PM) will provide the maximum amount of time to defeat the boss. In Hardmode, the Moon Charm and/or Moon Stone and their upgrades are also useful at night.
Boss battles can be won or lost before the battle ever starts. Choose your equipment and have it ready; find and/or make potions and placed buffs;

use the highest-tier food you have available; set up an arena appropriate to the boss; learn the strategies for the boss you're facing.
Prepare your Boss-fighting arena with adequate lighting, Campfires and Heart Lanterns for health regeneration, and Stars in Bottles for mana regeneration if you use magic. Bast Statues

will provide a significant defensive boost. Garden Gnomes

and (if underground) proper torch placement

will reduce damage taken and increase damage dealt due to the luck. Note Torch God's Favor helps with this. Honey pools can also be used for extra health regeneration.

Sunflowers provide the Happy! buff to players within a 50-tile radius, which grants a +10% movement speed bonus and 17% reduction in enemy spawn rate.
Always carry around a stack of the highest-tier healing potion available, as relying only on natural Health Regeneration is not a good idea. Depending on the game stage, this can include items such as Mushrooms or Honeyfins. On the  Desktop,  Console,  Mobile, and  Switch versions, Restoration Potions are healing potions with a shorter cooldown.

Likewise carry mana potions, if you use Magic.
The Strange Brew

is also an option, but its weak healing effect will trigger the Potion Sickness cooldown as well as Mana Sickness. On the  Old-gen console version, Nintendo  version, and  tModLoader version, Restoration Potions can save a slot, but will likewise trigger both cooldowns.

It is suggested to build houses for the Dryad and the Nurse NPCs in your arena. The former casts the Dryad's Blessing

buff, which increases your defense and provides you with a thorns-like effect, while the latter can heal and remove debuffs instantly, at the cost of some coins.
Bosses are displayed on the Minimap: Follow the boss's icon to track it when you're struggling to find it. You can identify the boss icons by checking their respective wiki pages.
Once you have freed the Mechanic in the Dungeon, you can use Wire to enhance your arena with Traps and helpful Heart and Star Statues. The former helps to damage the enemies, though be careful to set them up correctly in order not to hurt yourself during the battle. The latter will spawn heart and star pickups, respectively. Connect these devices to timers.
It may be useful to summon and kill the Eye of Cthulhu or King Slime before summoning any harder boss in order to spawn an extra one-use pool of Hearts. Note that this will prevent any Heart Statues from spawning new Hearts.
Remember to use the Sharpening Station

, Ammo Box

, Crystal Ball, Bewitching Table

, and Slice of Cake

before you go to explore or battle bosses/invasions. These will give boosts that are useful to take, with the first four being class-specific. They give Sharpened

, Ammo Box

, Clairvoyance, Bewitched

, and Sugar Rush

, respectively.
Terrain Preparation
[
]
Queen Slime shoots out bouncing projectiles that can be a challenge to dodge, especially in the second stage. Fighting in an off-ground arena with platforms on the bottom will allow the projectiles to fall out safely. For example, a Sky Bridge consisted of platforms is extremely recommended. If you have Lava Waders or its upgrades, it may be a good idea to use bubble and lava instead of platforms, as the neither the Queen Slime in the first phase nor the slimes she summons can stand on them. This will come at the cost of slowing down each time the player moves through the lava. Alternatively, setting up a basic arena, and using the gravity strategy (Under specific strategies) is perfectly suitable.
Gearing Up
[
]
Armor
[
]
Weapons
[
]
It's important to have weapons that can deal with the crowd of slimes that she summons, as well as weapons that can reach her in her winged form.
For Melee users
For Ranged users
For Magic users
For Summoners
Accessories
[
]
There are many great accessories available at this point.
Frozen Wings, Fairy Wings, Harpy Wings or Fin Wings are the best wings available at this stage, but Leaf Wings are reasonable substitutes. Lightning Boots or better will provide better ground movement. Amphibian Boots

can also be used because they increase the ascent speed of wings. Those two accessories will allow you to move almost freely through the air and on the ground.
The Cobalt Shield or its upgrades prevents knockback, which can be useful in the second phase as projectiles can cover the screen.
The Frozen Turtle Shell is a defensive accessory that reduces damage if your health starts getting low. The Expert mode exclusive Worm Scarf

is also effective.
The Cross Necklace (or Star Veil) will make rapid hits more survivable.
The Charm of Myths enhances survivability by providing regeneration and reducing the duration of Potion Sickness. To reduce the potion cooldown, it only needs to be equipped during the instant a health potion is drunk.
An Emblem provides additional damage for your primary damage type;

Yoyo fighters should use a Yoyo Bag

, as it doubles a yoyo's damage output, as well as providing 2 extra counterweights that can do a bit more damage.
Magic Quiver should be used if using a Daedalus Stormbow

or any Repeater with Jester/Unholy Arrows.
Magic users who wish to rely less on Mana Potions can equip a pair of Magic Cuffs/Celestial Cuffs

. Slimes drop mana stars frequently.
Putrid Scent

provides a generic increase to DPS and is a decent filler accessory.
Summoners should be wearing the Pygmy Necklace for the extra minion slot and damage.
The Berserker Glove is an excellent accessory for Summoners, due to its defense increase, bonuses to whip speed and size, as well as enabling whip autoswing. Its recommended to reforge this to Warding rather than Menacing due to the massive defensive boost it provides (+12 Defense on Warding), which helps patch up Summoner armors generally low Defense.
As with most situations in general, it is best to reforge your accessories with damage, critical strike chance or defense increasing modifiers.
Potions
[
]
Specific & Most Effective Strategies
[
]
Gravitation Potions
[
]
Due to her flight allowing her to keep up with you but out of range of her attacks, which are affected by gravity, makes maneuvering with the

Gravitation Potion an extremely effective strategy in the 2nd phase. Use a strong weapon with range, or flying summons such as the Imp or Sanguine staves, and you should fairly easily dodge all her attacks while flipping gravity and falling while hitting her in return. The Slime Mount is recommended for this in order to boost your falling speed in space and quick fall out of range of her if she approaches too closely. This, paired with the

Shield of Cthulhu can make her second phase a breeze.
Skybridge
[
]
Fighting on a long skybridge can make avoiding the spawned slimes much easier. Queen Slime is fairly slow in her first stage, but her winged form can keep up with the mounts summoned by the Goat Skull and Blessed Apple. Be careful if you reverse directions as all previously summoned slimes will still be alive.
Alternatively, during the second stage, Queen Slime follows a fairly predictable pattern. The player can run back and forth on the skybridge, jumping over projectiles, and Queen Slime will remain at roughly the same height the entire time, making targeting easier.
Water Walking on the Ocean
[
]
Using Water Walking Boots or its tinkers or Water Walking Potion, Queen Slime can be fought over the Ocean. Her projectiles will sink into the ocean, and 2/3 of the slimes she summon cannot shoot while they are floating.
Make sure to keep moving with this strategy as Queen Slime will repeatedly sink into the ocean and then teleport to your position in the first phase.
Lava Layer
[
]
Like nearly all bosses, the Queen Slime is immune to lava, but her minions are not. A thin layer of lava can be used to take out most of her minions. Combined with Lava Waders, Terraspark Boots, Water Walking Potions, or Obsidian Skin Potion, you can easily decimate her.
The Black Spot Mount (Master Mode Only)
[
]
The Black Spot is a great mount for fighting the Queen Slime, as it has infinite flight. Using a strong weapon like Dart Rifle with Cursed Darts, it is possible to kill Queen Slime and her minions very fast. Note that Queen Slime can teleport to you in her first phase, so you have to keep on moving to dodge her attacks. Note that in 1.4.1, the Black Spot got nerfed and is not effective against bosses.