Guns are ranged weapons that fire bullets or comparable items[1] as ammunition.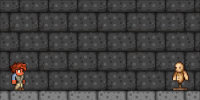 In addition to ranged bonuses, bullet-firing guns also benefit from the Shroomite Mask and are compatible with the Rifle Scope. Possession of any bullet-firing gun (or bullets) fulfills the criteria for the Arms Dealer NPC to appear.
The Flare Gun uses ammunition, however it does not inflict ranged damage. Several items are also referred to as "guns" in-game (e.g. Piranha Gun, Space Gun, or Water Gun), but none of these require ammunition.
The best modifier for guns is Unreal, with the exception of guns without knockback.
Types
[
]
There are currently 37 different guns available in Terraria, 20 of which are Hardmode-exclusive.
See also
[
]
Footnotes
[
]