The
Hallowed Armor
set is one of the strongest sets of armor in the game in terms of defensive power, inferior only to the
Shroomite Armor
, 
Chlorophyte Armor
,
Turtle Armor
,
Beetle Armor
,
Solar Flare Armor
, and
Dragon Armor
.
(console)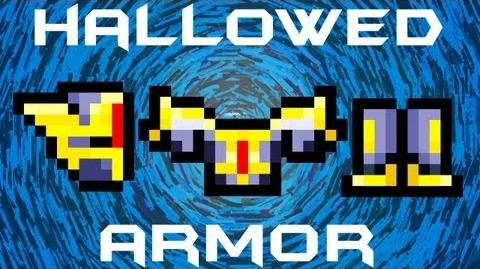 Overview
It will be required to kill any of the Mechanical Hardmode bosses three times to get the 54 Hallowed Bars to craft the entire set.
Parts of the Set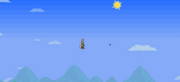 General

Hallowed Plate Mail
15 defense
7% increased critical strike chance

Hallowed Greaves
11 defense
8% increased movement speed
7% increased damage
Helmets

Hallowed Headgear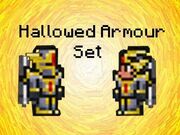 5 defense
Increases maximum mana by 100
12% increased magic damage and critical strike chance

Hallowed Helmet
9 defense
15% increased ranged damage
8% increased ranged critical strike chance

Hallowed Mask
24 defense
10% increased melee damage and critical strike chance
10% increased melee speed
Notes
The Hallowed Helmet, combined with the Megashark, gives a 62.5% chance to not consume ammo with every shot.
Although in other sets the helmet is melee and the mask is ranged, this is reversed in the Hallowed set.
In the Console Version, there exist 3 new Armors (for Warriors, for Rangers, and for Mages), each of which is better than its Hallowed counterpart.
This armor set can be used in vanity to get the glow effect of the Mythril Armor, which can be useful for cave exploring (tested in console version)
Trivia
The term 'Hallowed' is used to describe something blessed by a deity, and as such these items may be described as having 'godlike' power.
This armor combines the visual effects given by the armor sets used prior to 1.2 to craft it: an after-image (Cobalt Armor), shine (Mythril Armor), and pulsing aura (Adamantite Armor).
Update Info
Community content is available under
CC-BY-SA
unless otherwise noted.