Ham Bat
Buff
Hearty Meal

Buff tooltip
Increased Life Regeneration
Chance
100%

(when killing an enemy)

Duration
7 seconds
| Buff | Base damage |
| --- | --- |
| No food buff | 57 |
| Well Fed | 59 |
| Plenty Satisfied | 62 |
| Exquisitely Stuffed | 65 |
[

]

 Obtained from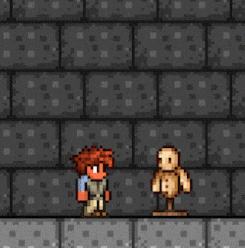 The Ham Bat is an early-Hardmode melee weapon that has a 4*1/25 (4%) chance to drop from Pigrons. On The Constant seed, the drop chance is increased to 10*1/10 (10%). Killing an enemy with the Ham Bat grants the Hearty Meal buff, which increases the player's health regeneration by 3 per second.[1] This lasts for 7 seconds, but can be canceled at any time by right-clicking the icon. Hearty Meal will not stack upon killing another enemy; the duration instead resets.
The Ham Bat's damage is slightly increased if a food buff is active;[2] see the table on the right.
Its best modifier is Legendary.
Trivia
[
]
Tips
[
]
See also
[
]
History
[
]
 Desktop version
References
[
]
↑ Information taken from the  Desktop 1.4.3.2 source code, method UpdateLifeRegen() in Terraria.Player.cs. There may be inaccuracies, as the current  Desktop version is 1.4.3.6.