Handgun


 Obtained from

 Classic

 Expert

 Master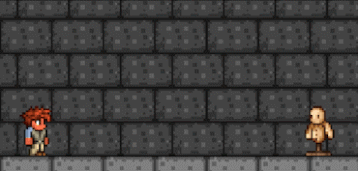 The Handgun is a gun found in Locked Gold Chests in the Dungeon. It shoots rather quickly, although it does not autofire. It is superior in both damage and speed to the Flintlock Pistol.
The Dungeon will generally contain 1-2 Handguns. On the
 Desktop version,

 Console version,

 Mobile version,

 Nintendo Switch version, and

 tModLoader version, extras can renewably be obtained from opening Golden Lock Boxes found in Dungeon Crates.
Its best modifier is Unreal.
Crafting
[
]
Used in
[
]
Result
Ingredients
Crafting station
Phoenix Blaster
Iron Anvil
or
Lead Anvil
Notes
[
]
Tips
[
]
Trivia
[
]
History
[
]
 Desktop version

 Console version

 Nintendo Switch version

 Mobile version