Hellbats
are similar to
Cave Bats
,
Jungle Bats
, and
Lava Bats
, but they appear to be on fire and only
spawn
in
The Underworld
.
They inflict more damage than Fire Imps and Lava Slimes, and can also be difficult to hit. They can also inflict the On Fire! Debuff when hit by them. The Hellbat has the highest spawn rate out of any monster in The Underworld, and can attack in large groups of 3-6 that often swarm the player.
Hellbats are difficult to hit with most ranged weapons due to their small size, so melee weapons such as Swords and Pickaxes are recommended for fighting them.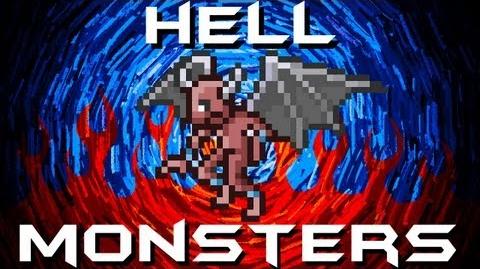 Notes
The Underworld contains massive pools of lava, therefore Hellbats should be eliminated as soon as possible to avoid getting knocked into lava pools. Using a Cobalt Shield eliminates this concern.
When mining Hellstone in The Underworld, make sure to watch out for Hellbats, they can be annoying and can be hard to kill and can easily kill the player if not paying attention. This goes for just exploring The Underworld as well.
Hellbats are able to inflict high damage even if the player has hardmode armor equipped.
Lava Bats replace this completely after a mechanical boss has been defeated.
Update Info
Health changed from 55 to 46.
Damage changed from 30 to 35.
Community content is available under
CC-BY-SA
unless otherwise noted.