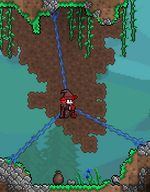 I rampini sono una classe di strumenti che aiutano il giocatore negli spostamenti nel mondo di gioco. Quando utilizzati, viene lanciata una catena che si aggancia ad una superficie trasportando il giocatore verso di essa. Un gancio è uno strumento indispensabile perché offre una libertà molto superiore dalle restrizioni imposte dall'altezza del terreno. In genere è uno dei primi strumenti che aiutano la mobilità che possono essere ottenuti. Il modo per ottenerli varia notevolmente a seconda del tipo (vedi la tabella sotto).
Esiste un tasto rapido dedicato ai rampini (PC: E • Xbox 360: Trigger S. • PS3: L1 • iOS/Android: Trascinando rapidamente dal giocatore verso la direzione desiderata) che attiva il primo presente nell'inventario, senza che il rampino sia presente nella barra rapida.
Molti rampini di rarità più elevata come la Frusta di edera, permettono al giocatore di aggrapparsi a più superfici contemporaneamente. Se il personaggio è aggrappato ad una sola superficie, quindi utilizza il rampino una seconda volta, un'altra catena si estenderà dal giocatore senza ritrarre la prima. Una volta aggrappato ad una seconda superficie, il giocatore rimarrà sospeso a mezzaria nel punto medio tra le due superfici. Questo concede grande libertà durante la costruzione o per esplorare aree pericolose come quelle sopra la lava.
Tipologie
[
]
I rampini variano in base al raggio d'azione, alla velocità, al numero di ganci rilasciabili, e al numero di ganci che rimangono aggrappati simultaneamente.
Pre-Hardmode
[
]
Oggetto
Origine
Distanza
Velocità
Ganci
Tipo di aggancio
Vendita
Rarità
Lancio rapido
Rampino
Artigianato:

Uncino

e 3

Catene


oppure acquistabile dal Goblin Inventore (

2

)
19 blocchi
11.5
1
Singolo

40

Blu

Gancio di ametista
Artigianato: 15

Ametiste

18 blocchi
10
1
Singolo

40

Blu

Gancio di topazio
Artigianato: 15

Topazio

20 blocchi
10.5
1
Singolo

40

Blu

Gancio di zaffiro
Artigianato: 15

Zaffiri

22 blocchi
11
1
Singolo

40

Blu

Gancio di smeraldo
Artigianato: 15

Smeraldi

24 blocchi
11.5
1
Singolo

40

Blu

Gancio di rubino
Artigianato: 15

Rubini

26 blocchi
12
1
Singolo

40

Blu

Gancio di diamante
Artigianato: 15

Diamanti

28 blocchi
12.5
1
Singolo

40

Blu

Gancio di zucchero
Ottenuto casualmente da

Regalo

25 blocchi
11.5
1
Singolo

4

Verde Chiaro

Gancio pipistrello
Ottenuto casualmente da

Borsa di caramelle

32 blocchi
15.5
1
Singolo

2

Arancione

Mano di Skeletron
Ottenuto casualmente da

Skeletron

22 blocchi
15
2
Simultaneo

90

Verde

Gancio pesce
Ricompensa casuale del

Pescatore


dopo aver completato una richiesta
25 blocchi
13
2
Individuale

40

Arancione

Gancio di slime
Ottenuto casualmente da Re Slime
25 blocchi
10
3
Simultaneo

40

Arancione

Frusta di edera
Artigianato: 3

Liane

e 12

Spore della giungla

25 blocchi
13
3
Simultaneo

40

Arancione

Spara ragnatele
Saccheggiato dalle

Ceste coperte di ragnatela

16 blocchi
10
8
Simultaneo

40

Verde

✔️
Oggetto
Origine
Distanza
Velocità
Ganci
Tipo di aggancio
Vendita
Rarità
Lancio rapido
Rampino doppio
Ottenuto casualmente da

Mimetico

28 blocchi
14
2
Individuale

4

Rosso

✔️

Gancio sinistro
Ottenuto casualmente da

Lutto di legno


durante l'evento

Luna Zucca

.
35 blocchi
15.5
3
Simultaneo

4

Verde Chiaro

Gancio natalizio
Ottenuto casualmente dall'

Everscream/it/Urlatore


durante l'evento

Luna Ghiacciata

.
35 blocchi
15.5
3
Simultaneo

4

Verde Chiaro
Note
[
]
Tutti i rampini sono realizzati all'

incudine di ferro

o a quella di

piombo

.
Per i rampini a gancio singolo, se già aggrappati questo si stacca non appena si utilizza nuovamente il rampino.
Per i rampini a ganci multipli, ma senza agganci simultanei (Gancio Pesce, Rampino Doppio), è possibile lanciare una seconda catena, ma la prima si staccherà non appena la seconda tocca una superficie.
Un rampino a ganci multipli può essere utilizzato di nuovo solo dopo che la catena precedente si sia agganciata ad una superficie o completamente ritratta. Il Rampino Doppio e lo Spara Ragnatele sono eccezioni, e possono essere utilizzati molto rapidamente.
Aggrappandosi ad una

piattaforma

con un solo gancio porterà il giocatore dentro la piattaforma, il che significa che ogni nuovo lancio incontrerà sempre la piattaforma stessa. Bisogna necessariamente saltare per togliere il gancio e quindi puntare ad altri blocchi.
I rampini resettano il tempo di volo del personaggio con Ali e Stivali Razzo, anche se il gancio è ritratto prima che attiri il giocatore.
Tutti i rampini possono rimanere aggrappati ad una superficie per 10 minuti dopo di che sono automaticamente staccati.
Suggerimenti
[
]
When sprinting accessories are equipped, the burst of speed provided by a Hook upon latching a surface can be used to accelerate a player to sprinting speed instantly.
The Ice Rod can be exploited in conjunction with the ability to reset flight/jumping accessories, by placing a block that can be grappled mid-flight, resetting flight time, and allowing functionally indefinite flight time for as long as the player can successfully manage to place blocks and grapple them accurately.
Characters that have hooked a block are immune to gravity and knockback. Grappling the ground in dangerous locations, such as near lava, can ensure you don't fall in when taking damage from an enemy.
Players can also exploit immunity to gravity by "grappling the ground" to prevent fall damage. Be careful of using this trick recklessly, as the grappling hook will not function if it reaches the extent of its chain without hitting a block (the game counts it as a "miss" and doesn't check for collision with blocks on the return,) and - depending on the hook used - may prevent you from firing another hook to save yourself until the chain has fully retracted.
Grappling a door and then opening it dislodges the hook, and flings the player towards the door at grapple speeds. This can similarly be exploited to "kickstart" sprinting accessories.
Simultaneous-latch multi-hooks are more useful for utility purposes, but when fast travel is preferred, they require more user input: the user must jump to dislodge one hook before firing again, or else they are suspended midway between two points and must negotiate the gap again. Individually-latching multi-hooks allow easier fast-transit, since they immediately sling the player across gaps, rather than automatically suspending them midway first -- though they aren't as useful for intricate maneuvers.
Hooks that can be fired in rapid succession (Dual Hook and Web Slinger) provide more security during falls, since if the first firing fails to latch a surface, another chain can be fired immediately to try again.
Trivia
[
]
The Grappling Hook's tooltip, "Get over here!", is a quote from the Mortal Kombat character Scorpion, when he throws a kunai attached to a rope (grappling hook) at opponents and drags them over to him.
The Web Slinger is likely a reference to Spider-Man.
The Fish Hook is a play on words, using the term for the real-life fishing tool for a grappling hook with the same appearance.
Storia
[
]

 Versione PC
Desktop 1.2.4

: Introdotto il Gancio pesce e il Gancio di slime.
Desktop 1.2.3

:

Fixed bug quando i rampini si rompevano se provavano ad attaccarsi a blocchi contenenti liquido.
Utilizzando l'

Asta della discordia

rilascia tutti i rampini.
Utilizzando un

teletrasporto

rilascia tutti i rampini.
Desktop 1.2.2

: Introdotto il Gancio di zucchero e il Gancio natalizio.
Desktop 1.2.1

: Introdotto il Gancio pipistrello e il Gancio sinistro.
Desktop 1.2

: Introdotti i Ganci di gemme, lo Spara ragnatele e la Mano di Skeletron.
Desktop 1.1

:

Rampino può essere acquistato dal Goblin Inventore per

2

.
Introdotto il Rampino Doppio.
Desktop 1.0.6

: Aggiunto tasto rapido. Rimosso il 60-secondi auto-sganciameto.
Pre-Release

: Rampino e Frusta di edera introdotti.