Hornets
are inhabitants of the
Underground Jungle
biome
. They are airborne and normally
spawn
in groups, to represent the swarming nature of real Hornets. Like
Demon Eyes
, they move away from you when you hit them and then charge back at you. It is advised that you corner them up against a wall to kill them effectively using a
flail
or
Muramasa
. Due to the darkness of the jungle, a
Hunter Potion
makes it easy to spot them before nailing them with a
bow
. Hornets come in different sizes.
Hornets can be very deadly in groups as they spawn quickly to accumulate in a swarm. They deal an attack damage of 40 modified by the player's total defense.
Hornets fire a projectile that has a 1 in 3 chance to poison the target. These projectiles cannot go through walls, similar to a Harpy's feather. With this in mind it is easy to make a floating rest area to recover health as long as you are out of reach of man eaters. When they shoot stingers it sounds like a dart trap.
Bugs
Hornets may still spawn in water rarely.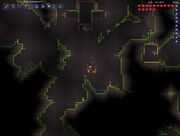 Update Info
Have varying stats as Big and Little Stingers aren't spawned anymore.
Doesn't make a splash sound when hitting water.
No longer drops pieces of the Jungle Armor.
No longer appear as if they are about to flip over whilst flying.