Dům (nebo Domov) je struktura vybudovaná hráčem, kterou potřebují městská NPC ke svému zrození. Každé NPC potřebuje svůj vlastní dům. Tato struktura musí splňovat řadu požadavků, aby mohla fungovat jako Dům (detailnější popis níže). Můžete se ujistit, že struktura splňuje požadavky tím, že použijete tlačítko Domovního menu označené symbolem otazníku ("?"). NPC se do svých domů uchylují většinou během noci a zůstávají zde až do rozbřesku. Schovávají se do nich také během zatmění Slunce (od 1.2.3).
Průvodce se objeví po založení nového světa. Jestliže je zabit, zrodí se opět ve svém Domě (pokud nějaký má). Stařec a Obchodní cestující dům nepotřebují.
Rybář, Gobliní kutil, Mechanička, Stylista a Kouzelník se ve hře objeví bez ohledu na to, jestli je pro ně k dispozici dům. Jakmile na ně však narazíte, budou dům potřebovat, aby se v něm mohli následně objevovat.
Rozhraní
[
]
Dům musí být plně uzavřený:
Boční stěny (vertikální bloky) mohou být tvořeny Bloky,

Dveřmi

nebo

Dřevěnými platformami

.
Podlaha a strop (horizontální bloky) mohou být vytvořeny z Bloků nebo

Dřevěných platform

.
NPC potřebují alespoň jeden pevný blok (ne platformu), na kterém mohou stát během noci. Tento blok nemusí být nutně propojen s ostatními bloky ve stěnách domu (viz obrázek).
Vstup
[
]
Dům musí mít minimálně jeden vstup, který je tvořen Dveřmi ve zdi nebo Dřevěnou platformou ve stropě, podlaze nebo zdech.
Velikost
[
]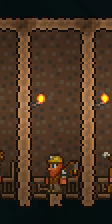 Započítáme-li okraje (podlaha, boční zdi a strop), obsah Domu musí mít nejméně 60 dlaždic, ale ne více, než 750.
Navíc vnější okraj Domu musí dosahovat některého z následujících minimálních velikostních požadavků:
| Bez stropu, podlahy a zdí | Zahrnující strop, podlahu a zdi |
| --- | --- |
| 3 dlaždice široký x 10 dlaždic vysoký | 5 dlaždic široký x 12 dlaždic vysoký |
| 4 dlaždice široký x 8 dlaždic vysoký | 6 dlaždic široký x 10 dlaždic vysoký |
| 6 dlaždic široký x 6 dlaždic vysoký | 8 dlaždic široký x 8 dlaždic vysoký |
| 7 dlaždic široký x 5 dlaždic vysoký | 9 dlaždic široký x 7 dlaždic vysoký |
| 8 dlaždic široký x 4 dlaždice vysoký | 10 dlaždic široký x 6 dlaždic vysoký |
| 10 dlaždic široký x 3 dlaždice vysoký | 12 dlaždic široký x 5 dlaždic vysoký |
Zadní zdi
[
]
Dům musí mít zadní zdi tak, aby byly vhodné. Může být použita jakákoliv zeď, kterou hráč vyrobí nebo vytěží kromě Modré ploché stěny (dá se nalézt v Kobce).
Zdi, které nebyly umístěny hráčem, (jako například přirozeně se vyskytující

Hliněné zdi

) se nebere v úvahu jako zadní zeď domu a mohou se zde rodit

Monstra

. Výjimkou jsou zadní bloky vygenerované na

Létajícím ostrově

,

Kouřvé zdi

nacházející se v

Podzemních místnostech

,

Zdi z žijícího dřeva

v komnatách

Žijících stromů

nebo

Zdi z pískovcových cihel

vyskytující se v

Pyramidách

.

Hliněné zdi

umístěné hráčem již funkcí zdí plní.

Zadní zdi

můžou obsahovat díry, pokud nejsou vyšší nebo širší, než 4 dlaždice (např. 4 zadní stěn background tiles across or tall, so the maximum size is 4x4, 16 in total. The hole cannot exceed 4x4 or 16 tiles.). Ve stěnách se může vyskytovat více takových děr, ale všechny od sebe musí být odděleny nejméně jednou dlaždicí zadní zdi.

Když máte v pozadí díry, občas se vám skrze ně můžou dovnitř do Domu dostat

Monstra

. Pro stavbu bezpečnějších oken použijte raději

Skleněné stěny

.
Nabytek
[
]
Dům musí mít minimálně jeden plnohodnotný Zdroj světla, předmět s rovným povrchem a vedle něj umístěný nějaký pohodlný předmět. Níže uvedený seznam předmětů splňuje tyto požadavky.
Ne každý předmět produkující světlo je plnohodnotným světelným zdrojem pro dům. Pro tento účel musíte použít jeden z níže uvedených.
Jakýkoliv typ předmětů uvedených dole splňují požadavky. Na příklad, jakkoliv zbarvená

Pochodeň

bude fungovat, stejně tak jakýkoliv typ

křesla

.
Zdroj světla

Pochodeň

Pochodeň na stojanu

Svíčka

Lebková lucerna

Svícen

Lampa

Lucerna

lustr

Čínská lucerna

Vydlabaná dýně

Vánoční světýlka

Předmět s rovnou plochou

Stůl

Šatník

Ponk

Vana

Knihovna

Piano

Pohodlný předmět

Židle

Trůn

Lavička

Postel

Gauč
Umístění
[
]
Pokud je Dům umístěn v blízkosti Zkázy nebo Karmínu, může se stát neobyvatelným. Pokud se tyto biomy rozšíří až k Domu, tak s NPC, která ho obývají, vystěhují a začnou se toulat po okolí, dokud nebudou mít k dispozici Dům nový.
Dům je považován za zkažený na základě jeho "hodnoty zkaženosti", která se počítá v okruhu 45 bloků kolem Domu (ve všech směrech); jeho zkaženost musí být 250 a méně. To je přibližně polovina bloků v celém dosahu.
Každý blok

Ebonového kamene

,

Ebenového písku

a Zkažené révy & rostlin zvyšuje Hodnotu zkaženosti Domu o 1. Naopak, každá

Slunečnice

redukuje tuto hodnotu o 5.
Každá dlaždice Svěcené trávy,

Perlového písku

a Svěcených rostlin Redukuje hodnotu o 1.
Nejjednodušší možné řešení
[
]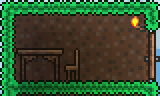 Potřebný materiál:
25

Hliněných bloků

na podlahu, stěny a strop.
32

Hliněných stěn

(8 Hliněných bloků) na zadní zdi.

Dřevěné dveře

(6 Dřev). Mohou být nahrazeny

Dřevěnou platformou

.

Dřevěný židle

(4 Dřeva).

Dřevěný stůl

(8 Dřev) nebo Ponk (10 Dřeva).

Pochodeň

(1 Dřevo, 1 Gel, celkem 3).
Shrnutí potřebného materiálu:
33

Hliněných bloků

19

Dřev

(pokud použijete dveře) nebo 14 Dřev (pokud použijete jednu Dřevěnou platformu)
1 Gel
Tento způsob sice funguje, ale pokud nechcete mít Dům obalený révou, nahraďte hlínu dřevem, kamenem nebo blátem. This works, but if you don't want house to be occupied by vines, replace dirt with wood, stone, or mud. Zatímco je toto nejjednodušší řešení, je citlivé na Zkázu a Karmín.
Poznámky
[
]
Domy na sebe mohou být navázány a sdílet tak společné zdi, podlahy, stropy a dveře.
Pokud je Dům přiřazený některému NPC zničen nebo nesplňuje některé jeho požadavky, NPC bude bloumat po okolí, dokus pro něj nebude znovu dostupný jiný dům. Pokud bude zabito, NPC se znovu zrodí, jakmile bude k dispozici platný dům.
NPC se nezrodí ve svém Domě, pokud je jeho Dům právě vidět na obrazovce, a místo toho bude chodit kolem. Vypnutí a restartování hry jednoho hráče umístí NPC do jeho domu. Jestliže se hráč večer pohybuje několik obrazovek daleko od Domu nebo pokud použije

Magické zrcadlo

nebo

Teleportér

, NPC se automaticky objeví doma.
Ve hře jednoho hráče bude na konci všech 19 NPC (20 během Vánočního období) hráči k dispozici v běžném biomu tomu hráči, který plně pokročí ve hře. Bylo by dobré zhodnotit strukturu stavby obsahujících 19 nároky splňujících pokojů (20 během Vánočního období), když plánujete svoji centrálu.

Lanýž

je dodatečné 20 NPC (nebo 21 během Vánočního období), které musí být na povrchu Houbového biomu a raději by měl být ubytován odděleně od hráčovy hlavní struktury.
Strany, vršek ani spodek světa se NEPOČÍTÁ jako stěny.
Pokud se

kamenné stěny

změní na

Perlové stěny

, Dům se stane nevyhovujícím.
Pokud ve světě stavíte dům na originálním bodu

zrození

, je nejlepší, když do popředí nebudete umisťovat žádné

přední objekty

nebo bloky v místě, kde se postavy objevují. Po objevení se totiž tyto předměty odeberou a umístí do hráčova inventáře.
Tipy
[
]
Umístění zdroje světla do místnosti žijícího stromu nebo do struktury plovoucího ostrova z je učiní vhodným pro bydlení, ledaže byste odstranili tamní nábytek.
Pokud si přejete zamezit NPC, aby se potulovalo kolem, Umístěte na každou stranu dveří na zem pochodeň (od

1.2

není nutné, aby byla na zemi). Nejenom, že se bude počítat jako světelný zdroj, ale také zamezí NPC, aby opustilo dům. Ale mějte na paměti, že tohle komplikuje otevírání dveří i hráči, až se bude muset otočit směrem ode dveří, aby je otevřel nebo kliknout pravým tlačítkem na pochodeň a znovu ji umístit, pokud bude chtít vstoupit.

Dřevěné paprsky

a

Dřevěné platformy

fungují stejně.
Historie
[
]
 Počítačová verze
Desktop 1.2.0.2

: Otevření

Dveří

už nezpůsobuje, že by byla místnost neobyvatelná.
Desktop 1.2

: Opraven bug, že obyvatelný dům se mohl stát neobyvatelným.
Desktop 1.1

: Nyní je zde Domovní rozhraní pro kontrolu, jeslti je dům vhodný pro nastěhování a označení specifického domu pro specifické NPC.
Desktop 1.0.6

: Změněny požadavky; nyní může být použita

Postel

,

Toaleta

,

Trůn

nebo

Lavička

namísto

Židle

a

Šatník

,

Vana

a

Knihovna

namísto

Stolu

nebo

Ponku

.