Vedi anche
Guide:Bases/it
per costruire una città per PNG (o una Base)
Una Casa è una struttura costruita dal giocatore che i PNG di città hanno bisogno per arrivare, con una casa richiesta per PNG. Una struttura deve incontrare svariati requisiti per funzionare (vedi i dettagli sotto). Puoi controllare se una struttura soddisfa i requisiti usando il pulsante Alloggio, contrassegnato dal punto di domanda ("?"). I PNG gemeralmente si ritirano nelle loro case di notte e rimangono dentro fino all'alba. Inoltre si ritirano anche durante un Eclissi solare o Pioggia.
La Guida appare non appena crei un mondo, e se ucciso, richiede una casa per riapparire. Il Vecchio, il Venditore Itinerante, e il Venditore Scheletro non richiedono una casa.
In qualche modo simile alla Guida, il Pescatore, il Goblin inventore, il Meccanico, la Stilista, lo Stregone, e il Taverniere fanno la loro prima apparizione a prescindere dalla disponibilità degli alloggi. Una volta trovati, hanno bisogno di una casa per riapparire successivamente.
Certe strutture generate naturalmente possono servire come case e possono inavvertitamente attrare PNG se i giocatori hanno piazzato light source/it. Questi includono la sala del tesoro del Albero di legno vivo e le strutture delle Isole Galleggianti. I PNG possono essere trasferiti da essere a strutture del giocatore usando il menu Alloggio.
Menu Alloggio
[
]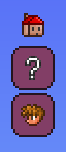 Il menu alloggio permette di controllare se la casa che hai costruito è idoneo o meno, cosi come per trasferire manualmente i PNG in case specifiche. Per accedere, premi l'icona della casa nel tuo inventario.

Non c'è nessun menu Alloggio in Versione Mobile, rendendo impossibile i trasferimenti dei PNG, visto che possono scegliere qualsiasi casa. Però, puoi venere i loro banner.
Per vedere se la casa è idoneo per l'uso, premi su Valutazione alloggio ("?") e poi premi in qualsiasi parte dentro la casa; riceverai un messaggio indicando se la casa è idonea o no. Se non lo è, puoi controllare i requisiti più giù di questa pagina per vedere cosa manca alla casa.
Una volta che una casa è considerata idonea, puoi assegnare un PNG piazzando la bandiera corrispondente dentro. Nota che solo le bandiere dei PNG che sono già apparsi appaiono. Per esempio, quando entri per la prima volta in un mondo nuovo, solo la bandiera della Guida viene mostrata. Nelle versioni
 Desktop,

 Console,

 Mobile,

 Switch, and

 tModLoader, le bandiere PNG ha 2 aspetti differenti: rosso solido e rosso con cornice dorata. I PNG che si muovono da solo avranno la bandiera rossa normale. Se sono invece assegnati, avranno la bandiera con cornice dorata. Questo indica che se il PNG che sta attualmente abitando in questa casa dovesse morire, il sostituto si muoverà in quella casa specifica. Per cui, una bandiera con cornice dorata non sparisce a meno che la casa non viene distrutta o il PNG viene trasferito.
Nella versione

 Old-gen console, il menu alloggio può essere aperto premendo il tasto Inventario e navigando nel menu alloggio. Per controllare se la casa è valida, premi il tasto Bonus rapido e lo stato dell'alloggio della casa dove sei posizionato sarà controllato. Premi Inventario mostrare o nascondere bandiere PNG.
Quando soddisfi le condizioni per far apparire un PNG, una casa casuale viene assegnata da una delle case vuote idonee.
Framework
[
]
A house must be fully enclosed with the following features:
The side walls (vertical blocks) can be made of blocks, Doors, Platforms or Tall Gates.
The floor and ceiling (horizontal blocks) can be made of blocks, Trap Doors or Platforms. The whole floor cannot be made of platforms.
The NPC needs at least one solid (non-platform) block to stand on at night (

and a 2x3 area unobstructed by foreground blocks). These blocks may not be directly adjacent to either of the 2 side walls of the house.
Entrance
[
]
A house must have at least one entrance, which can be a Door or Tall Gate in a side wall, a Trap Door in the ceiling or floor, a Platform in the ceiling, floor, or side walls.
Size
[
]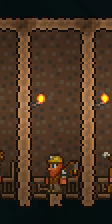 Including the frame (floor, side walls, and ceiling), a House must have at least 60 total tiles, but less than 750.
Therefore, a House's outer frame must meet one of the following minimum dimensional requirements:
Excluding ceiling, floor and walls
Including ceiling, floor and walls
3 tiles wide x 10 tiles high [1]
5 tiles wide x 12 tiles high
4 tiles wide x 8 tiles high
6 tiles wide x 10 tiles high
5 tiles wide x 7 tiles high
7 tiles wide x 9 tiles high
6 tiles wide x 6 tiles high
8 tiles wide x 8 tiles high
7 tiles wide x 5 tiles high
9 tiles wide x 7 tiles high
8 tiles wide x 4 tiles high
10 tiles wide x 6 tiles high
10 tiles wide x 3 tiles high
12 tiles wide x 5 tiles high
13 tiles wide x 2 tiles high

[2]
15 tiles wide x 4 tiles high
↑ Only possible when using a Work Bench instead of a table.
↑

Only possible when using platforms as a ceiling. No longer possible on Desktop, Console, Mobile, Switch, and tModLoader.
Background Walls
[
]
A house must have a background wall in order to be suitable. Any walls crafted or mined by the player are valid.
Walls not placed by a player (such as naturally-occurring dirt walls) do not count, with the exception of Disc Walls in Floating Islands, the Planked Walls found in Underground Cabins, the Living Wood Walls in Living Tree rooms, or the Sandstone Brick Walls found in Pyramid structures. Dirt walls placed by the player do work.
Background walls may contain holes if the holes are no taller or wider than four tiles. (e.g. 4 background tiles across or tall, so the maximum size allowed is 4x4, 16 tiles in total.). Walls may have multiple holes as long as they are separated by at least a single tile of background walls.

Having background holes may sometimes allow enemies to spawn within the House. To create windows more safely, place sections of Glass Wall instead.
Furniture requirement
[
]
A House must have at least one valid Light source, Flat Surface item, and Comfort item placed within it. The items listed below will fulfill these requirements.
Not every item that provides light will fulfill a House's light source requirement; in particular, no "foreground blocks", platforms, or walls qualify. You must use one of the furniture items listed below.
Light sources
[
]
Flat surface items
[
]
Comfort items
[
]
Location
[
]
If a House is located near Corruption or Crimson, it may become uninhabitable. If these spread near an occupied House, the NPC living there may move out and wander the area until a new House becomes available.
A House is considered corrupted based on its "Corruption/Crimson rating," which calculates all tiles in a 45-block "radius" around the house; a house's Corruption/Crimson rating must be 250 or less. This is about half the blocks in the radius.
Note that Pearlstone does not reduce the corruption rating.
A Simple, Valid house
[
]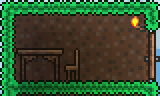 Materials required:
Summary raw materials:
33 Dirt Block
19 Wood (if using door) or 14 Wood (if using a single wood platform)
1 Gel
This works, but if you don't want house to be occupied by vines, replace dirt with wood, stone, or mud. While this is a simple option, it's susceptible to Corruption, Crimson or Hallow in Hardmode.
Achievements
[
]

Agente immobiliare

 •

«

Porta tutti i PNG nella città del tuo mondo.

»

All town

NPCs

are housed in your world.
All in the Family
 •
«Every NPC has moved into your house»
All town
NPCs
are housed in your world.
Notes
[
]
Houses may be attached together and share common walls, floors, ceilings, and doors.
If a House with an assigned NPC is destroyed or any of its requirements are invalidated, the NPC will wander the area until a valid House becomes available again. If killed, the NPC will respawn once a valid house is restored.
An NPC will not spawn within its House if that House is on the visible screen at the time, and may walk around the area outside instead. Quitting and restarting in single-player mode will place the NPC in its house. At night, NPCs will be automatically placed inside their Houses if the player travels several screens away, or if the player uses a Magic Mirror, Teleporter, or Ice Mirror.
The side, top, and bottom of the world will not count as walls.
If a stone wall has been converted into Pearlstone Wall, the House will become invalid.
If building a house at a world's original spawn point, it is best to not place any foreground objects or blocks where characters appear. This will remove the object(s) and place them in the new player's inventory.
Tips
[
]
Actuators can be used with Brown, Grey, and Lihzahrd Pressure Plates to allow players entry but prevent enemies from entering or NPCs from leaving. Trap Doors can also be used, as neither enemies nor NPCs can open them.

 Versione Desktop

After the 1.3.1 update, it is very useful and convenient to use a Player Sensor instead of pressure plates, as you will not only have much more ground space to use but you can also activate the Actuators or Trap Door from simply being in the proximity of them. Note that the Player Sensor itself is not a valid block for the house frame; if it is used as part of the floor, ceiling, or side walls (including corners), the house will not be valid.

If absolutely necessary (e.g. on

 Mobile

, where there's no housing menu), players can force an NPC into a particular house by destroying all the others.
Hardmode natural walls, such as Pearlstone and Ebonstone walls, do not count as valid walls.
The "Infinite House" exploit will always work on old-gen consoles (Xbox 360, Wii U & PS3), due to the fact that these consoles will not receive further updates to Terraria.[1]
As long as the house meets the size criteria, it can be any shape, not just rectangles and squares. (i.e. You can have a dome shaped house and it would still be viable.)
References
[
]
History
[
]
 Versione Desktop
Desktop 1.3.5

: NPCs who are manually assigned to a room will have their successor attempt to move in when the original is killed.
Desktop 1.3.1

: Removed the "Infinite House" glitch.
Desktop 1.2.4.1

: Opening doors will once again cause a room to be unsuitable, but only if two doors are opened into the same room. (Depends on size of room)
Desktop 1.2

: Fixed a bug that would cause a suitable house to be unsuitable.
Desktop 1.1

: There is now a Housing Menu (a built-in interface) for checking if a house is valid for being moved into, and for assigning NPCs to specific houses.