Een huis (of huis) is een structuur die door de speler is gebouwd en die stads-NPC's nodig hebben om te spawnen, met één huis per NPC. Een bouwwerk moet aan een aantal eisen voldoen om als woning te kunnen functioneren (zie details hieronder). U kunt controleren of een bouwwerk aan de eisen voldoet door gebruik te maken van de bovenste knop van het Woningmenu, gemarkeerd met een vraagteken ("?"). NPC's trekken zich over het algemeen 's nachts terug in hun huizen en blijven daar tot het ochtendgloren. Ze zullen zich ook terugtrekken in hun huizen tijdens een zonsverduistering of regen of tijdens een evenement.

De Gids verschijnt bij het starten van een nieuwe wereld, en als hij wordt gedood, heeft hij een huis nodig om te kunnen respawnen. De oude man, de reizende koopman en de skeletkoopman hebben geen huizen nodig.

Evenzo zullen de versies Guide, Angler, Goblin Tinkerer, TavernkeepDesktop, Console en Mobile, Mechanic, Stylist, Wizard, Tax CollectorDesktop, Console en Mobile-versies, en Golfer Desktop- en Mobile-versies elk hun eerste verschijnen, ongeacht de beschikbare behuizing. Eenmaal gevonden, hebben ze allemaal een geschikt huis nodig voordat ze kunnen respawnen.

Bepaalde natuurlijk gegenereerde structuren kunnen dienen als huizen en kunnen onbedoeld NPC's aantrekken als spelers er lichtbronnen in hebben geplaatst. Deze kunnen onder meer drijvende eilandstructuren zijn, en , Living Tree schatkamers die gekwalificeerd zijn. NPC's kunnen van deze naar de structuren van de speler worden verplaatst met behulp van het huisvestingsmenu.

De vereisten voor een door de speler geselecteerd bed om als spawnpunt te werken, zijn vergelijkbaar met die voor NPC-huisvesting, maar zwakker.

[

]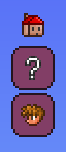 Het menu voor het beheren van de plaatsing van NPC's, toegankelijk door op het kleine huispictogram boven de pantsersleuven te klikken.

In het menu Huisvesting kun je controleren of de huizen die je hebt gebouwd geschikt zijn voor gebruik of niet, en om handmatig een huis aan te wijzen voor een specifieke NPC. Om toegang te krijgen tot dit menu, klik je op het huispictogram in je inventaris.

Om te controleren of een woning geschikt is voor gebruik, klikt u op het "?" vraagteken huisvesting en klik vervolgens ergens in het huis; je krijgt dan een bericht waarin staat of de woning geschikt is of niet. Als het niet geschikt is, laat het spel je weten wat het huis mist. Deze waarschuwing geeft prioriteit aan muren (zowel voor als achtergrond) en vervolgens aan meubels (deur, lichtbron, tafel en stoel).

Zodra is vastgesteld dat een huis geschikt is, kun je er een NPC aan toewijzen door de bijbehorende NPC-vlag erin te plaatsen. Merk op dat alleen de vlaggen van NPC's waarvan je al aan de spawn-voorwaarden hebt voldaan, verschijnen. Als je bijvoorbeeld voor het eerst een nieuwe wereld binnengaat, wordt alleen de NPC-vlag van de gids weergegeven. NPC-vlaggen voor andere NPC's worden alleen weergegeven als je aan elk van hun spawn-voorwaarden voldoet. Op de desktopversie Desktopversie, consoleversie Consoleversie en mobiele versie Mobiele versie, hebben NPC-vlaggen twee verschillende verschijningsvormen: effen rood en rood met een gouden frame. NPC's die uit zichzelf naar binnen gaan, hebben een normale rode vlag. Als ze aan een huis worden toegewezen, krijgt het spandoek een gouden lijst. Dit geeft aan dat als de NPC die momenteel in het huis woont zou overlijden, de vervanger van die NPC naar dat gespecificeerde huis zou verhuizen. Hierdoor zal een gouden NPC-vlag niet verdwijnen tenzij het huis waarin het zich bevindt wordt vernietigd of de NPC opnieuw wordt toegewezen.

In de Old-gen console-versie Old-gen console-versie kan het huisvestingsmenu worden geopend door op Inventaris te drukken en naar het huisvestingsmenu te navigeren. Om te controleren of een huis geldig is, druk je op Quick Buff en de woonstatus van het huis waarin je staat wordt in de chat afgedrukt. Druk op Inventaris om kamervlaggen te tonen/verbergen. Wanneer je voor het eerst voldoet aan de spawn-voorwaarden voor een NPC, wordt er een willekeurig huis aan hen toegewezen uit je beschikbare lege geschikte huizen.